The Hampton Inn Dulles/Cascades, Sterling, VAs Top Hotel and Part of the B. F. Saul Company Hospitality Group, Has Undergone an Extensive Renovation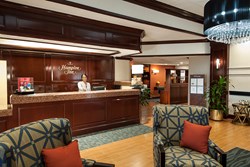 Sterling, VA (PRWEB) October 17, 2013
Renovations are finished at the Hampton Inn Dulles/Cascades hotel, and the guest feedback is showing it.
Sterling, VAs number one hotel, the Hampton Inn Dulles/Cascades, has just finished the complete renovation of its Perfect Mix lobby, business center, and fitness room. The total cost of this renovation was over $ 250,000, but the feedback so far from guests has been that it was well-worth the investment.
The feedback from our guests, both on review sites such as TripAdvisor and through our guest satisfaction surveys, has been overwhelmingly positive, says hotel general manager, Rebecca Leo. The hotel was great before, but this renovation has really taken us to a new level. Nothing in the public space has gone overlooked; we upgraded everything: the lobby, the breakfast area, the business center, and the fitness center.
The Perfect Mix lobby and breakfast area of the Hampton Inn Dulles/Cascades have undergone a major transformation, including: