In America, the Burger Reigns Supreme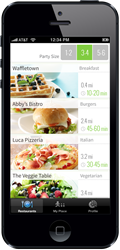 New York, NY (PRWEB) October 23, 2013
The iPad-based front-of-house (FOH) marketing service NoWait recently released data on the competition between two of America's favorite foods – burgers versus wood-fired pizzas. Recent statistics from the more than 20 million diners seated through NoWait show that Americans are waiting twice as long for a burger as they are for a pizza.
The data set analyzed dedicated burger concepts and wood-fired pizzerias over an 8-week period. The sample included more than 60,000 restaurant patrons, in cities including Philadelphia, San Diego, Denver, Little Rock, Des Moines, Dallas, Pittsburgh, and others, who passed through the system. The results? On any given Saturday night across the country, Americans are waiting on average about an hour and ten minutes for burgers, and only 35 minutes for pizza.
The data reveals just how crazy Americans are for hamburgers. On the busiest of Saturdays, top burger restaurants are putting up to 1,350 people through their wait list that day – enough people to fill three 747 planes! The peak dining hours for dining show some impressive waits as well. The busiest burger restaurants have enough people on the wait list at 7pm on a Saturday night that their lines would stretch longer than a football field – that is if they didn't use NoWait to let guests wander and receive a text when their tables are ready.
"We were astonished by the findings, and this is just a drop in the bucket considering the expansive quantities of data we collect," said Ware Sykes, NoWait CEO. "Considering how long lines can actually become, it's a clear indication that it was the right time to release our consumer app to get in line from your smartphone."
The new consumer app mentioned is NoWait's consumer-facing app that allows diners to view wait times at nearby restaurants and remotely add their name to the wait list, thereby avoiding the on-site line altogether. The App released initially on September 1 in Pittsburgh with plans for a national rollout coming in 2014.
In addition to improving the consumer's experience, NoWait is continuously improving their seating management system for restaurateurs. NoWait recently launched a new artificial intelligence feature to rein in the confusion surrounding quoting wait times to guests. The feature, Predictive Wait Times, consists of a proprietary algorithm that accurately calculates restaurant wait times based on the restaurant's historical wait data and real time factors like the number of guests in line and the flow of seating guests. Using this feature, restaurants are now able to take the guesswork out of quoting wait times, providing more accurate quotes and better customer service.
Additional data that NoWait provides restaurants can help them determine how long people are generally willing to wait for a table, which days and times people are willing to wait longer, and which of those repeat diners have waited the longest to enjoy their food – all statistics that ultimately help increase productivity and profitability.
About NoWait

NoWait has seated more than 20 million diners nationally and is trending towards seating 3 millions diners a month, putting the company on track to surpass OpenTable's volume by the end of 2014. More than 3,500 restaurants are using the restaurant app, including 12 national chains and many popular independent restaurants from well-known chefs including Marc Vetri, Hubert Keller and Iron Chef Jose Garces.
Based in New York and Pittsburgh, NoWait is backed by Birchmere Ventures and Carnegie Mellon University's Open Field Entrepreneurs Fund. More information is available at: http://www.nowaitapp.com/. Follow NoWait on Twitter @NoWaitApp or on Facebook at http://www.facebook.com/nowaitapp.