Doozy Cards Announces a Brand New Batch of Halloween ECards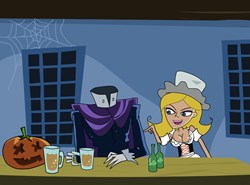 Los Angeles, CA (PRWEB) October 30, 2013
Doozy Cards recently announced a brand new spooky collection of Halloween eCards. Doozy's unique and funny Halloween eCards are full of plenty of tricks and treats, and feature original animation sure to bring more delight than fright to friends and family this Halloween.
Crafted especially for this Halloween, Doozy's new eCards feature classic Halloween characters and also introduce some new soon-to-be favorites. The tale of the Headless Horseman has been told around the campfire for years, but when the nightmarish fellow makes an appearance in the "Not So Headless Horseman", one of Doozy's new Halloween eCards, there's an unexpected twist to the classic tale. Not for the faint of heart, or the young trick-or-treaters, this mature eCard will have friends laughing their heads off.
Frightening films and devilish costumes may dominate most Halloween entertainment, but Doozy Cards' new Halloween eCards offer a break from all the horror. Fans of Doozy's talented dancing animated pups will be pleased to see them return in Dancing Halloween Doggies. Another one of this year's new eCards for Halloween, this animated treat features a hilarious stage performance by a group of costumed canines, sure to delight family members and coworkers alike. For those looking to get spooked, Doozy's Spooky Halloween Treats is a new card meant to be both scary and fun for all ages.
Doozy Cards offers a ten-day trial period of free eCards, as well as a premium membership with a host of benefits, including unique eCards, birthday reminders and free tech support. Additionally, a portion of the proceeds from the premier membership goes to St. Vincent Meals on Wheels, the largest privately funded meals program in the US.
A family-based company, Doozy Cards is staffed by animators, voiceover artists and writers, who provide customers with a distinctive selection of new eCards online distinct from generic holiday greetings. According to Bennett Schneider, writer and Creative Director at Doozy Cards, "Because of our teamwork, I think we get a richer, more original product than you're going to find on more corporate and mass-produced eCard sites."
Doozy Cards offers the spookiest collection of Halloween eCards sure to deliver plenty of haunted hilarity to your friends and loved ones. To explore the wide range of Halloween eCards and invitations, visit Doozy's Halloween section or the Doozy Blog.
"Whether it's through laughter or tears, when you send someone an ecard, you are showing them you care," says president Chandler Cooke Chandler.
About Doozy Cards:

A small, family owned and operated animation studio and ecard company, Doozy has been creating original eCards since 2003, including popular Birthday eCards and more for special occassions. A father and daughter team founded Doozy Cards with the intention of uplifting each person who views their cards.
Find More Tech Press Releases