Discount Labels Introduces New Small Business Bundles to Help Customers Save Time and Money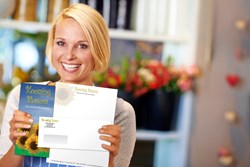 New Albany, IN (PRWEB) September 04, 2013
Small Business owners are busy! To help them save time and money, Discount Labels is offering its first-ever new bundle options of the most popular promotional products. Distributors can receive up to a 15% discount for combining two, three or four business products. The more a customer orders, the more they can save.
"Small business owners represent a large portion of our customers. We are introducing this promotion to help small businesses become even more successful by providing an easy way to order promotional products," says Jennifer LaGrange, Brand Manager for Discount Labels. "Distributors can quickly order several products with the same artwork online or by phone to save time and money."
Distributors can combine any of the following products to save big:


    Business Cards
    Business Card Magnets
    Promotional Magnets
    Labels – All shapes, sizes and colors
    Bumper Stickers
    Envelopes
    Letterhead
    Return Address Labels
    Post Cards
    Brochures / Flyers
    Rubber Stamps
The more products bundled, the bigger the discount:
    Pick 2: Save 5% – Promo Code: PICK2
    Pick 3: Save 10% – Promo Code: PICK3
    Pick 4: Save 15% – Promo Code: PICK4*
Distributors interested in learning more about Discount Labels' new small business bundles are encouraged to call 800-995-9500 for assistance.
*One item in the Pick 4 bundle must be a label.
About Discount Labels:

Discount Labels specializes in die cut labels, premier labels, durable labels, variable data labels, printer labels, magnets, stamps and promotional products for every industry including automotive, construction, healthcare, manufacturing, restaurant and retail. Discount Labels sells through the largest authorized label distributor network in the U.S. and Canada. Eligible dealers are active in one of the following: printing, graphic arts, specialty advertising, business forms, packaging and shipping, signs, banners, trophies, rubber stamps, or office products. Established in 1965, Discount Labels has grown to be America's largest wholesale label supplier. Find more information at Discountlabels.com and visit us on Facebook, Twitter (@Discount_Labels) and Google+.