Digital WarRoom to Share All-in-One Ediscovery Software with Litigators at 2013 Ediscovery Leadership Conference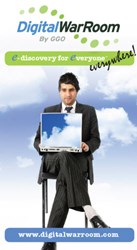 Seattle, WA (PRWEB) November 11, 2013
Digital WarRoom, creators of the Digital WarRoom all in one ediscovery software platform, will sponsor the Ediscovery Leadership Conference in Hollywood Florida on November 15th, 2013. The educational conference is offered by The Legal Learning Series, led by industry veterans Robert Friedman and Karen Chamberlain.
Industry experts at the 2013 conference will explore diverse topics including social media in ediscovery, international challenges, and a look at the technologies and practices in forensics investigations. Digital WarRoom is the first truly integrated ediscovery software that allows law firms and legal teams to process ESI, conduct attorney review, and create productions in a single software environment said Megan Miller, vice president of marketing and business development for Digital WarRoom. The growing interest in ediscovery is phenomenal, and education has been key to the rapid growth of Digital WarRoom as a leading ediscovery software solution. The Legal Learning Series really shares our belief that great software and ediscovery education go hand in hand.
About Digital WarRoom Ediscovery Platform

Digital WarRoom is the first ediscovery platform to provide law firms, corporate legal and ediscovery teams with complete ESI processing, document review and production in a single application, eliminating traditional high-cost volume-based processing fees. GGO created the Digital WarRoom technology for in-house use by solo attorneys, corporations and law firms of all sizes to address document processing, review and production in legal matters of all types. The software is licensed in a variety of forms, addressing any size law firm or matter:

Digital WarRoom Pro the first Windows PC application for ediscovery, allowing an individually licensed user to conduct complete ediscovery on a Windows computer;
DWR WorkGroup DWR WorkGroup, a multi-user ediscovery application that allows corporate IT, in-house legal, or law firm ediscovery practitioners to manage ediscovery case data processing, document review and production without high priced volume-based processing;
Digital WarRoom Remote hosted ediscovery, a full-service hosted platform designed for distributed and virtual team access to case data.
The Digital WarRoom platform has been acclaimed by e-discovery experts, law firms, and corporate clients as impressive, seamless, and easy to use. An LTN product review compared the platform favorably with better-known but far more expensive solutions, saying DWR seems to have adopted the best two or three features offered by leading ediscovery software makers such as Clearwell and kCura Relativity and packaged them all together in one functional, integrated platform, which can operate on a desktop, or laptop, computer in a distributed computing environment that incorporates other computers, such as a back-end database server.

To learn more about Digital WarRoom visit http://www.digitalwarroom.com.