T Shirt Printing Co. Extends Custom Printing Sale for Dog Shirts at MurrayShirts.com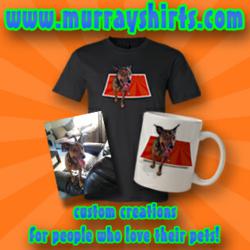 Orlando, Florida (PRWEB) July 09, 2013
Ordering customized printing online is a new way consumers can find custom designs that are unique in certain industries. The Murray Shirts Co. is dedicated to printing products in the pet industry and is now extending its custom printing sale. This t shirt printing co. has developed a new price structure that is currently underway for consumers online. The sale applies to all printed substrates that can be found in stock at http://murrayshirts.com/design-options.
We've hired a team of designers to create all original artwork this year, said Shon Strickland, founder of the MurrayShirts.com company. These designers now work daily to create the artwork that is printed on stock products or when customers request a customized print.
The garment manufacturing industry has improved the materials used in creation of jackets, shirts and other apparel. Apart from 100 percent cotton clothing, additional substances are used to create clothing sold in the U.S. These garment types can now be found among the choices that are available to consumers when placing orders online.
The new Murray Shirts Co. e-commerce store launched this year is one strategy contributing to the removal of ordering difficulties that can happen in the custom printed products industry.
We're currently printing shirts, mugs and other items that make inexpensive gifts, Strickland added. The company pricing advancements are due to higher resolution printing equipment that was included this year. The color limitations with the screen printing process were one decision to switch to a direct to plate technology for all company created products.
The extended discounts sale now underway is one summer promotion that this company has created for consumers. The inclusion of gift certificates this month is expected to create easy to purchase gifts. Pet owners not ordering products can now order gift certificates to use as giveaways or presents to friends, families or co-workers to order custom pet shirts online.
About MurrayShirts.com
The MurrayShirts.com company designs and distributes custom printed t shirts and other accessories for consumers worldwide. Printing enhancements have been added this year to improve quality of ink layering and wash cycles. Consumers purchasing company products receive high-quality color representation for each photo or artwork design ordered. The MurrayShirts.com company employs a team of graphic design specialists to create stock artwork and custom designs that are requested by consumers. Equipment changes made this year has helped this company to lower its per piece pricing for garments and other printable substrates.