SOFTPROs ESignature Software Now Offers Out-Of-The-Box Support for Wacoms 10 LCD Signature Pad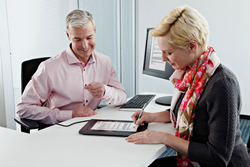 Westlake Village, CA (PRWEB) August 28, 2013
SOFTPROs SignDoc Desktop ESignature Software Suite supports Wacoms DTU-1031 signature pad for out-of-the box functionality that facilitates the adoption and deployment of esignature technology. The combined solution is designed for organizations looking for a large LCD signature pad that enables customers to review, complete, and securely esign PDF documents on-screen.
SOFTPRO and Wacom have joint customers spanning a wide range of industries, explains Rodney G. Vesling, President of SOFTPRO N.A and Chief Marketing Officer for the Global SOFTPRO Group. This unique product combination offers an ideal document review and esigning experience in face-to-face, across-the-counter transactions for many markets, especially in financial services.
SOFTPROs SignDoc esignature software is an enterprise solution that supports all esigning environments, including in-person, mobile and online transactions. SignDoc produces a secure esignature which includes biometric data captured by the Wacom device. SignDoc also leverages the ISO signature standard. As a result, all SignDoc software solutions can automatically recognize PDF digital signature fields and utilize standard, secure document hashing/encryption methods.
The SOFTPRO esignature solution takes advantage of the DTU-1031s beautiful and durable 10 LCD screen and high performance pen, says Michael Marcum, Vice President of Vertical Markets for Wacom Technology Corp. The synergy between the two products provides tremendous value and unique benefits to our customers who want to be proud of the esigning experience that helps reinforce their brand.
The Wacom DTU-1031 is a 10.1 widescreen LCD signature pad with an ultra-thin form factor. The device utilizes Wacoms patented, cordless, battery-free pen technology, which does not require a tether to operate, so it is incredibly reliable. Powered by a single USB cable, the DTU-1031 eliminates the need for an external power source. The products hardened, anti-glare surface reduces scratches and provides a clear and colorful viewing experience, which attracts attention to messages and advertisingperfect for high-traffic environments.
About SOFTPRO

Founded in 1983, SOFTPRO is the most experienced signature management company. The companys SignDoc Esignature Software supports handwritten esignatures captured with any device including tablets and smartphones as well as offers a secure click-to-sign esignature solution. SOFTPRO solutions are used in 50 countries where many of the worlds largest financial services organizations trust SOFTPRO.
About Wacom

Founded in 1983, Wacoms vision to bring people and technology closer together through natural computer interface technologies has made it the worlds leading manufacturer of pen tablets, interactive pen displays and other digital input solutions. For vertical market applications such as electronic signature capture, medical recordkeeping and presentation, Wacoms intuitive input devices improve cost and workflow efficiencies while providing both businesses and their customers a natural and engaging experience. Consult http://www.wacom.com for more information.