Skender Construction, Harley Ellis Devereaux Create a New Home for ShopperTrak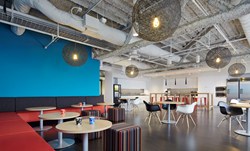 Chicago, IL (PRWEB) August 07, 2013
Skender Construction has completed construction of 52,000 square feet of office space for ShopperTrak, the global leader in people counting and store performance analysis, at the 41st floor of the Willis Tower in Downtown Chicago. Harley Ellis Devereaux provided design and architectural services. ConopCo Project Management was the owners representative, Jones Lang LaSalle was the real estate broker, and ESD provided the mechanical, electrical and plumbing engineer services.
Design goals included capturing the global businesss culture in a sophisticated way, creating a professional work environment that elicits collaboration among co-workers and a space that is fun, energetic and simple. Lighting fixtures featuring international flags are peppered throughout the elevator lobby and reception area as a tribute to both the firms CEO, a former geography major, and to reinforce the firms global industry.
Ceilings were intentionally left open to showcase the companys technology clearly. The projects goal of LEED Silver Certification encouraged the utilization of sustainable elements such as LED lighting and innovative hyper-efficient fluorescent lighting that increase energy efficiency by 30%. Access to natural light and views are maximized for every employee in the space and sustainable materials such as reclaimed wood, recycled steel, exposed concrete floors and linoleum are used throughout the space. In addition, the project was completed with an expedited construction schedule including many technical elements such as a 1,000 square foot data room and wiring for AV and security systems.
Functionally and aesthetically, our new office meets our needs to create an open and collaborative environment that encourages our employees to better serve our customers, said Christopher Ainsley, CEO ShopperTrak.
About ShopperTrak
ShopperTrak counts more retail foot traffic than any other company in the world. The retail technology company collects and analyzes anonymous foot traffic, queue times and shopper demographics to identify revenue opportunities. ShopperTrak services are deployed in more than 60,000 locations in 90 countries and territories. The Chicago-based company has more than 200 employees, with offices in San Francisco; High Wycombe, England; Dubai, United Arab Emirates; Shenzhen, China; and Helsinki, Finland. Find out more at http://www.shoppertrak.com/.
About Harley Ellis Devereaux
Harley Ellis Devereaux is a 105-year old, Chicago based, award-winning, full-service organization offering a complete range of planning, architecture, engineering, landscape architecture, interior design, and construction services. The firm serves customers across the nation and around the world. Visit us at http://www.harleyellisdevereaux.com/.
About Skender Construction
Skender Construction changes the way people experience construction. From our passion to the way were innovating project delivery, our clients and project partners walk away feeling different about the process. Our approach is different we believe a successful project builds on everyones expertise. True collaboration, innovation and a focus on efficiency creates value that clients see and touch. For more information on Skender, visit http://www.skender.com/.
Find More Tech Press Releases