QuikIO 3.0 Aims at Media Center Users with Full-Feature Music and Movie Streaming Capabilities for iPhone and iPad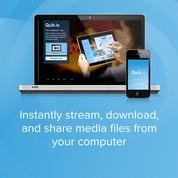 Mountain View, CA (PRWEB) July 12, 2013
QuikIO, a new mobile media content delivery application and service, today announced QuikIO 3.0 with the addition of several key media streaming functionalities for the media-centric users, making it the most complete personal media solution for iPhone and iPad.
Since launch, QuikIO has become a fast growing application with continuingly increasing number of downloads around the world. The popularity among its early adopters helped it to top #1 chart in several countries on Apple AppStore. QuikIO is changing how consumers access their personal contents by empowering them the ability to instant stream, transfer, or share their media collections on their computers through network connections.
"In response to the high demand by the QuikIO user community, we have focused QuikIO 3.0 efforts to bring the best media streaming experience to our users," said Michael Chen, QuikIO CEO and co-founder. "With the mobile music technology introduced in QuikIO 3.0, users can now stream to play their music collections even at the toughest mobile network conditions. Users can lose up to 20 minutes of network connectivity and still experience no interruption to music playback to their iPhone. This makes it perfect for daily commuters who listen to their music while driving or riding bus/train/subway."
QuikIO 3.0 allows users to save up to 80% of mobile data consumption for music streaming. This is achieved through extending QuikIOs patent-pending technology of live media conversion to music streaming. Music files are live converted using mobile-friendly music codec and streamed with no additional delay experienced by the users.
Other QuikIO 3.0 media features for iPhone and iPad include: