Quick Hit Launches Draft Showdown and Signs Dick Vermeil as New Pro Coach for Quick Hit Football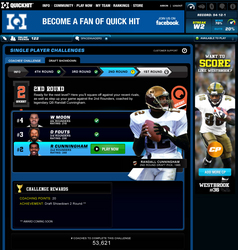 Foxboro, MA (PRWEB) April 14, 2010
Quick Hit, Inc. (Quick Hit), a leading developer and publisher of free social sports games, today announced a major update for Quick Hit Football as well as the addition of a new Head Coach to its roster. The update includes the Draft Showdown, an exciting new challenge that will run from today through April 27th urging users to beat four All Star teams comprised of Legends for a chance to win prizes like an HP Netbook*. The company also announced it has signed Championship-winner, Dick Vermeil, to its lineup of famous Head Coaches.
The Draft Showdown is a newly created promotion (made timely by the upcoming professional Draft next week) that challenges Quick Hit users to defeat four rounds of teams stacked with some of the best draft picks in history. The teams are captained by stand-out quarterbacks Vinny Testaverde (1st Overall Pick, 1987), Randall Cunningham (2nd Round, 1985), Dan Fouts (3rd Round, 1973), and Warren Moon (Undrafted, 1978). Even more exciting, every win in the Draft Showdown gets players an entry into a sweepstakes to win prizes like an HP Netbook, autographed football memorabilia, and other cool items*. Players will also be awarded valuable Coaching Points for completing each round of the challenge.
Coaching continues to be the cornerstone of Quick Hit Football and today, the company has added another Championship-winning icon to the team. Coach Vermeil, the former head coach for Philadelphia Eagles, St. Louis Rams and Kansas City Chiefs, had an amazing 29 year career in the National Football League, eventually winning a Super Bowl with St. Louis in 2000. He was also the Associated Press and Pro Football Weekly Coach of the Year in 1999.
Coach Vermeil always brought such passion to the game, said Jeffrey Anderson, CEO and founder, Quick Hit. As the head coach behind the 1999 Greatest Show on Turf, he is a fantastic addition to our roster.
The update announced today demonstrates Quick Hits dedication to building the largest and best free-to-play online football game in the world. It includes the Coaches Challenge – a punch-out style ladder campaign complete with nine former Pro Coaches and 18 fantasy coaches. This fun challenge was specifically designed to help users enjoy the rich depth and diversity of Quick Hit Football. The other big feature, Playbook Manager, is an exciting new element that gives users the ability to browse, sort and evaluate their playbooks outside of the actual game. Its the first time that users can view never seen before statistics like number of times a play has been called, how many yards it has averaged, number of first downs, how many points it scored, and more.
To read more about the Draft Showdown and how to enter to win an HP Netbook and other prizes, visit the promotion page.* To read more about the Coaches Challenge, Playbook Manager, and other new features in Quick Hit Football, check out the latest Dev Diary.
ABOUT QUICK HIT FOOTBALL

Quick Hit Football is a free, authentic football coaching game that doesnt require a credit card or massive download. Its compelling graphics, hard-hitting action and feature-rich game play take online sports games to a new level. Play head-to-head against Pro Coaches like Brian Billick or Jimmy Johnson; take on Pro superstars like Ray Lewis or Brian Westbrook; or draft Legends onto your team like Barry Sanders, Steve Atwater, James Lofton, and Tony Dorsett. Unlike repetitive twitch-games, Quick Hit Football offers a persistent gaming experience that lets fans build and manage a football dynasty. Play fast, fun, free online football games, earn fantasy and coaching points with every game, and watch your team grow. Hit the gridiron and create your team today at http://www.quickhit.com.
ABOUT QUICK HIT

Headquartered in the shadow of the world-famous Gillette Stadium in Foxboro, Massachusetts, Quick Hit, Inc. is developing free, online social sports games and entertainment for a global audience. Quick Hits products fill a massive void in the sports industry by offering head-to-head competitions that combine a rich graphical experience, the accessibility of Adobe