Power Practical Introduces Practical Meter, Batteries and New Branding at Summer OR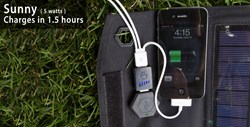 Salt Lake City, UT (PRWEB) July 31, 2013
Its hot outside and Power Practical isnt helping any. The Salt Lake City-based company is literally bringing the heat to this Summers OR. They manufacture and sell the PowerPot, a high-tech cooking pot that converts heat into electricity. The device is good for charging smartphones, GoPro cameras, etc. and cooking food–all from the heat of a fire. After successfully launching the PowerPot at Winter OR 2013, Power Practical is back with some fresh new faces.
The companys newest product is a small USB power meter that helps optimize solar panels and other portable generators. They call it the Practical Meter, and after introducing it on Kickstarter five weeks ago, the company has sold over 8,000 units to the tune of $ 167,000 in revenue. The Practical Meter plugs into any USB port and measures power throughput. It displays the power level in an easy-to-read 5-bar display that resembles signal strength bars on a cellphone.
If all 5 bars are lit up, youre charging at top speed. If you only see 2 or 3, you need to tilt your solar panel or use a better charging cable, said Riley Swenson, VP of Marketing for Power Practical. Most people dont realize that its actually pretty rare to get maximum charge rate from a solar panel with USB. Its possible but it requires good positioning and compatible cables. Our meter helps people use their portable power gear more efficiently.
The meter has an MSRP of $ 24.99 and includes special fast-charge cables the company says will increase power draw from solar panels. The company says it's aimed as a solar accessory but will be applicable to up-and-coming products such as the BioLite, hydrogen cell chargers, and of course Power Practicals flagship product, the PowerPot.
Power Practical has also complemented their battery lineup with the new Lithium 4400. This battery/lantern combo holds about 3 smartphone charges and can be rapidly charged in two hours. It can be recharged by solar panels, the PowerPot or at home. It weighs only four ounces and features an impressive 4-light LED lantern.
Look for Power Practical and the PowerPot at booth PV1033 in the new product pavilion. Or to learn more check out the official website at http://www.thepowerpot.com.
More Tech Press Releases