New Research As to Why Blogging is Essential in Today's Age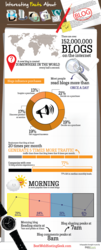 Nashville, Tennessee (PRWEB) July 03, 2013
Technology Researchers at BestWebHostingGeek.com recently released a study and some interesting facts regarding blogging. In this well written/researched article the author uses an infographic to explain why every individual, business, and organization should own a blog.
The findings of the report show that those who actively blog on average see a larger number of sales, have a more loyal customer-base, and receive a competitive edge over those who fail to blog.
In addition to demonstrating why everyone should own a blog, the researchers also included some interesting data that will help bloggers be more effective. The findings show that businesses that blog at least 20 times per month generate on average 5 times more traffic to their site than those who blog fewer than 4 times/month.
The article quotes, "You should see the importance of having a blog no matter if you are an individual, business, or organization. Dont be discouraged thinking it is too hard to get started because it is actually VERY EASY! No matter how young/old or technologically advanced you are, you can have your own blog up and running in a matter of minutes."
In addition to the interesting research the article includes some valuable resources that show readers how to start their own blog and explains that the process is actually quite easy and affordable!
Jonathan Burdon, Owner of BestWebHostingGeek.com, "We knew that blogging was very important; however, millions of individuals and businesses still are lacking this essential resource. The purpose of this research study was to give these individuals a clear understanding as to why they should create a blog immediately."
Find More Graphic Press Releases