M2J Think Box Appoints Chief Information Officer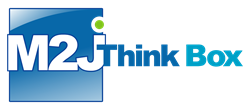 Chicago, IL (PRWEB) August 30, 2013
M2J Think Box, Inc., a digital marketing firm in Chicago, announced today it has appointed Scott Szwiec as its new Chief Information Officer (CIO).
With more than a decade of information technology and business development experience, Szwiec will direct efforts to link technology to internal and external strategies for M2J Think Box and its growing roster of local and national clients across several industries, including healthcare, sports & entertainment, retail, grocery and hospitality.
Adding Scott to our team strengthens our core and allows us to manage both internal projects and our valued clients more effectively, said Michael Miller, Chief Marketing Officer of M2J Think Box. His experience brings our digital marketing firm up to a higher echelon of ability and service.
Szwiec most recently worked at DentalPlans.com as the Vice President of Technology and Network Relations, and coordinated all technical functions to successfully launch and operate new programs. He also spearheaded network relationship business plans aligned with strategic company goals, and served on the companys senior management team. During his tenure, Szwiec cultivated strong business partnerships with leading healthcare companies such as Aetna, Cigna, Blue Cross Blue Shield, Careington and Delta Dental.
Prior to DentalPlans.com, Szwiec worked in technical roles at Software Architects, Inc. and Strong Capital Management, Inc. He graduated Magna Cum Laude from Marquette University in Milwaukee and earned a Bachelor of Science in Computer Science.
For more information about M2J Think Box, visit http://www.M2JThinkBox.com or contact Michael Miller at Michael(at)M2JThinkBox(dot)com.
About M2J Think Box, Inc.
Located in Chicago, M2J Think Box is a digital marketing agency with consulting experience and tools that help businesses starting out in a basement, to companies whose names are on the 101st floor. Driving innovation for businesses through insight and knowledge, M2J Think Box provides comprehension and control, while reducing the time and costs associated with fragmented strategies. Its valued clients include Cigna, DentalPlans.com, Falcon's Boxing Gym, Live Nation, The Mister Shop and Storck.