HF Holidays – Abingworth Hall Recently Buys a Three Drawer Storage Unit from FurnitureInFashion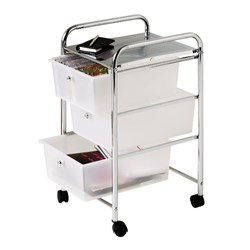 (PRWEB UK) 25 August 2013
Abingworth Hall, an HF Holidays site has purchased a contemporary Three Drawer Storage Unit from FurnitureInFashion. FurnitureInFashion is one of the leading suppliers of contemporary modern furniture in the UK. The company offers furniture to commercial and residential clients based both in the UK and other countries. FurnitureInFashion offers an extensive range of contemporary living room, dining room, bedroom, kitchen, bathroom, office and bar furniture for both commercial and residential customers. Over the past years, the company has established a very strong commercial clientele portfolio, supplying furniture to companies, cafes, restaurants, hotels, schools, colleges and many other organizations. Recently, Abingworth Hall bought a Three Drawer Storage Unit from FurnitureInFashion. A spokesperson for Abingworth Hall expressed their satisfaction with the quality of the storage unit and the support services provided by FurnitureInFashion.
The importance of storage furniture cannot be denied for both domestic and residential clients. FurnitureInFashion offers an extensive range of storage furniture for all purposes. The Three Drawer Storage Unit sold by FurnitureInFashion is an effective way to store a large range of items. This marvelous unit is a uniquely shaped rack with a beautiful modern twist to traditional designs. This drawer storage unit is provided in a chrome finish with a polished chrome frame. The unit offers plastic drawers in a white finish and sturdy wheels for ease of movement. The wheels make this storage unit very useful as it can be easily repositioned either to another position or to aid cleaning when required. This storage unit is available in three or four drawer versions: both have ample storage space. With its modern design, this unit is perfect for use in bedrooms and home offices, the castors giving extra mobility. The dimensions of this unit are 32.5cm wide, 38.5cm deep and 65cm high. Both storage units are available at very affordable prices.
The overwhelming demand for storage furniture recently prompted FurnitureInFashion to launch contemporary, sleek and spacious storage furniture suitable for any room. The storage furniture is available at an incredibly affordable price. According to the spokesperson of FurnitureInFashion, the storage units are well designed and provide enormous space. The spokesperson said, No matter what type of storage furniture customers would like, be it wrought iron, teak, aluminum, plastic or sling & strap, FurnitureInFashion offers every type. The objective of FurnitureInFashion is to give customers what they really want with its versatile, stylish and affordable storage furniture.
The CEO and Managing Director of FurnitureInFashion said, Our storage furniture is cost effective and most convenient. FurnitureInFashion takes pride in being chosen by Abingworth Hall to supply storage units. It has been a great working experience with Abingworth and we hope to do more business with them. Customers who are looking for contemporary and sleek storage furniture solutions should try visiting the website of FurnitureInFashion. The company offers prices even better than our usual great offers in special sales on various products from time to time. He further added that the level of inventory at FurnitureInFashion remains strong and furniture available for immediate shipment throughout the year.
To have a look at quality affordable furniture online and to place a pre-stock order, please visit the company website today at http://www.furnitureinfashion.net/. The range of home and office furniture on the website is huge, delivery is fast, savings are massive and quality is guaranteed.
About FurnitureInFashion
FurnitureInFashion is a UK-based online retail business. It supplies furniture from its German-based warehouse and has a showroom in Bolton, UK. The company provides everything from umbrella stands, wall art and room dividers, to bedroom suites, bar stools, and computer tables. FurnitureInFashion offers free delivery within the UK and is rightly proud of its excellent customer service. For further information and details about sales, please visit http://www.furnitureinfashion.net/.
Related Computer Press Releases