Google Nexus 7 and MainStreet Americas Proprietary Software Transform the Consumers Shopping Experience at the Nations First Year-Round Home Demonstration Park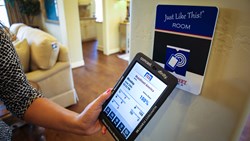 Houston, Texas (PRWEB) July 31, 2013
The power of Googles Nexus 7 and the innovative software created by the team at MainStreet America (MSA) have come together to bring about a first-of-its-kind consumer experience.
Located in the countrys fastest growing market, Houston, Texas, MainStreet America is a year-round home demonstration park where visitors will be inspired, informed and empowered to build, remodel and furnish their home. Positioned as a true ground-breaking concept in shopping for new homes and related services, MainStreet America is the only venue of its kind to also offer dining, retail, entertainment and educational opportunities to its visitors.
This innovative shopping venue can best be described as an inspiring world of discovery built around empowering educational technology and the home. MainStreet America is destined to be a powerful influence on consumer spending and will ultimately redefine how people shop for home products and services.
Educational technology plays a vital role in the consumers overall experience at MainStreet America. After extensively researching tablet-based platforms, the creator of MainStreet America, Mike Feigin, chose to run the Parks proprietary software on the Google Nexus 7 in order to deliver the many value-added services available to Park visitors. The Park currently deploys approximately 850 Nexus 7 devices in support of its 7-day a week operation.
Using the Near Field Communications (NFC) technology built into the Google Nexus 7 tablet, visitors to MainStreet America are able to scan RFID tags and obtain instant information on home products and services while touring the Parks 12 fully-furnished demonstration homes. Running MainStreet Americas unique proprietary software program on the Nexus 7 platform results in the ability to deliver the following consumer and business-related experiences:
Product Education visitors to the Park learn about the latest in home products and services through text audio and video presentations while touring the demonstration homes.
Remodeling Project Organization products scanned using the Google Nexus 7 tablet can be saved to a Wish List for reference later on the visitors home computer or mobile device.
Furniture Purchasing the furniture and accessories on display in each of the 12 unique in-home furniture galleries can be purchased using MainStreet Americas proprietary e-commerce program operating on the Nexus 7 device a furniture industry first.
Home & Remodeling Sales Support sales consultants for MSA-based companies, Design Tech Homes and MSA Remodeling, utilize the Google Nexus 7 to give sales presentations and to capture buyer home and product preferences.
Audio Tours the audio component in the Google Nexus 7 enhances the visitors overall Park experience by giving them the ability to learn about the homes and home products through the medium of sound.
Advertising & Promotions MainStreet America is able to push advertising and promotional messages through the Google Nexus 7 device to Park visitors during their tour of homes.
Consumer Buying Behavior Tracking as visitors move through their tour of homes, data on product preferences can be monitored, aggregated and eventually shared with product manufacturers.
MainStreet America, together with innovative technology from Google, will undoubtedly be a major influence in the marketplace.
For more information about MainStreet America, please visit http://www.mainstreetamerica.com.