Girl Power: Game Development Graduate, Rebeccah Cox gets Apple Approval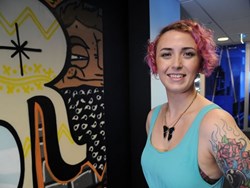 (PRWEB) August 26, 2013
Media Design School talked to Rebeccah about her journey as a game programming student to indie developer.
Why did you decide to pursue a career in games?

I have always liked maths and have a weakness for logic puzzles. Programming involves a lot of lateral thinking and problem solving, so it suits my way of thinking and working.
How did you discover Media Design School?

I did one year of a bachelor's degree in computer science and found that I only had about four hours of programming a week and the other classes seemed irrelevant. I started at Media Design School the following year and really enjoyed getting to work on code for the majority of the time. Most of the assessments were based on making different games to demonstrate the subject we were working on like physics or AI. This project-based assessment method was what really made me learn the most about game development.
Why did you choose to follow a career in indie games rather than working for a studio?

I like making the whole game from scratch and enjoy art and design as much as programming. This is what led me to indie development, because I didn't want to specialise in any specific area and liked having creative control over projects. However, I also learnt that independent development would be a much harder road and I would definitely not be earning the same money as my peers who went with more traditional jobs. In the end, I decided that the benefits outweighed the drawbacks, and that I was willing to put in the effort to make going indie a success.
How did you decide which platform to develop for?

"I put in a lot of research and eventually decided on iOS because it would be cheaper and easier to make and maintain games. The biggest draw cards were the limited number of devices (and resolutions) and that Apple provides customer support, whereas Android leaves that to the developer. This meant that I would not have to buy a large number of phones and tablets, or hire testing teams and a customer support person to respond to emails. The other factor was that Apple only has one app store, whereas Android has many to choose from, which would require more work when it came to submitting games, and picking stores.
What were the biggest challenges in developing Koi Pond Code Breaker?

It was my first attempt at making an iPhone game, so I encountered a lot of challenges. I was taking a business course, which took away time from the project. I also had a new engine to learn, but I have had to do that before at Media Design School, so it made the process a lot easier. The main hurdle I had to overcome was finishing the game to where I was happy with it, especially since I was working on both the art and code.
What next?

The current goal is to get another three or four games out by the end of the year. In the near future, I am hoping to work on some children's games and interactive stories. I have one lined up that should be out by the end of the year, and will be tested by my old primary school, Aorangi, Rotorua. There is a lot I want to accomplish through games.