FurnitureInFashion Is Offering Very Affordable Arctic White Extending Black Glass Dining Table With 6 Chairs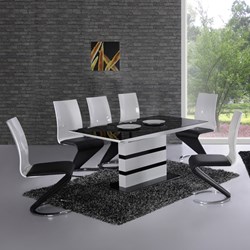 (PRWEB UK) 13 September 2013
FurnitureInFashion is offering a very reasonably priced and innovative Arctic white extending black glass dining table with 6 chairs for customers who are looking for affordable dining table set for their home. This modern dining set is available at an exclusively low price for a limited time.
FurnitureInFashion is one of the leading suppliers of modern and contemporary furniture in the UK. The company offers the most extensive range of dining room furniture including glass, wooden and stone dining tables with beautiful dining chairs in stylish designs. This remarkable Arctic white extending black glass dining table and 6 chairs can offer a great or somewhat inexpensive way to create and decorate a personal space within a dining room.
The Arctic dining table has a tempered black glass with white border. The tempered glass top offers toughness to the table. This table has extending feature which makes it ideal for accommodating more people over the family dinners or parties. The table also has a white high gloss base for strong support. The dining chairs that come with Arctic white extending black glass dining table are available in black faux leather seats to add softer touch. The seat and back of these chairs have detailed stitching for elegance. These dining chairs have Z shape support with comfy high backrests. These dining chairs have been ergonomically designed for maximum comfort. The table and dining chairs have been given rubber feet floor protection. The dining chairs and table have been given top grade high gloss finish for modern touch. This dining table can match with all other existing home furniture.
FurnitureInFashion offers extensive range of dining tables in all shapes and sizes. Customers can find dining tables in square, rectangular, oval, round and other shapes. The dining room furniture catalogue offers 4 seaters, 6 seaters and 8 seaters dining table sets. There is a separate catalogue for dining chairs and customers can choose chairs and develop their personalized dining table sets. The dining chairs are available in different finishes and are available in the most innovative designs and colours. FurnitureInFashion is known for offering the most affordable prices within the UK and is currently offering an excellent price package on Arctic dining room table with 6 chairs.
The CEO and Managing Director of FurnitureInFahion said, Customers who are looking for highly innovative and compact dining table set will be pleased to discover Arctic dining table set as it offers the most modern dining experience. From the design of the table to its high functionality of extensions, this table is offering everything a customer could dream of. FurnitureInFashion is currently offering the most affordable price on this dining set. Customers shouldnt miss this opportunity and instantly buy this beautiful and highly functional dining set for their homes. In addition, we offer free home delivery service to the customers based in the UK.
FurnitureInFashion also offers other dining room essentials such as cabinets, shelves and tables at very affordable prices.
To have a look at quality affordable furniture online and to place a pre-stock order, please visit the company website today at http://www.furnitureinfashion.net. The range of home and office furniture on the website is huge, delivery is fast, savings are massive and quality is guaranteed.
About FurnitureInFashion
FurnitureInFashion is a UK-based online retail business. It supplies furniture from its German-based warehouse and has a showroom in Bolton, UK. The company provides everything from umbrella stands, wall art and room dividers to bedroom suites, bar stools and computer tables. FurnitureInFashion offers free delivery within the UK and is rightly proud of its excellent customer service. For further information and details about sales, please visit http://www.furnitureinfashion.net.