Food Grade Silicone Tube Collection Now Available At Togohk.com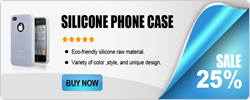 (PRWEB) August 22, 2013
Togohk.com, the silicone rubber products manufacturer in China, has recently launched a wide collection of different types of silicone hoses and tubes (http://www.togohk.com/?gallery=silicone-tube). The silicone tubes and silicone hoses manufactured by the company are 100% food grade. In addition to this, these tubes are offered at industry competitive rates which make them very reasonable and highly affordable.
The company uses a systematic methodology to manufacture each product category. The mechanism includes concept designing and sketching of products, 3D modeling and finally manufacturing. The raw material used is food grade silicon which is completely safe and is approved by FDA.
The silicone products (silicone brushes, cake molds, chocolate molds, silicone o-ring, soap cases, etc.) manufactured by TOGOHK have wide applications in different industries like food processing and others. The website states, TOGOHK is with independent design, world-rate quality, reasonable quotation for processing all types of silicone rubber products, for the in line with FDA and ROHS certification, We are intended to be a leading manufacturer in our industry with for the well-respected for technical expertise, first-rate, on-time delivery and value added services.
With continuous improvement and research and development, the company strives to bring innovative solutions for its customers. All the products are offered at industry competitive rates despite the fact the every product is unparalleled in quality. Customer satisfaction is the companys first priority and, in line with this, it never compromises on product quality.
TOGOHK International Industrial Co., Ltd was founded in the year 2003. It is a China based company which specializes in manufacturing silicone products. With its high tech engineering, rendering high product quality, and competitive rates, the company is one of the best suppliers in the market.
For more information about the business, please visit their website at: http://www.togohk.com
Related Tech Press Releases