DiSTIs GL Studio Version 4.5 Expands Capabilities for User Interface Creation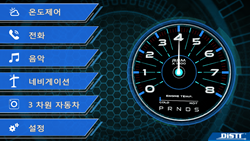 Orlando, FL (PRWEB) September 11, 2013
The DiSTI Corporation announced today the release of GL Studio version 4.5, software that helps user interface (UI) designers and application developers easily prototype, create, and deploy advanced 3D user interfaces for embedded devices and desktop applications. GL Studio version 4.5 contains graphic rendering features to improve battery life and performance for iOS, Android, and other embedded devices. This release also provides options to use either the OpenGL or DirectX API, multi-language support for UI internationalization, expanded compiler support, and improved Photoshop document support.
To complement faster and easier development time, GL Studio version 4.5 provides:

The choice of deploying raster glyphs, or True Type fonts thus making all fonts available at runtime
New object types to improve performance and battery life on mobile and embedded devices
Added support for the Microsoft Visual Studio 2012 and Linux GCC version 4.6 integrated development environment (IDE) , to provide a more seamless development
Increased editor and runtime support for DirectDraw Surface (DDS) file formats to allow developers to freely create content as they see fit
Improved Photoshop Document (.PSD) importer now includes gauge needle behaviors, making it easier to bring these interface types to life
The release of version 4.5 provides GL Studio developers with the means to create user interface content that gives consumers the end user experience they have come to expect in todays products and devices. We are excited to supply our customers with these expanded features and capabilities and we will continue to provide the latest solutions to our customers as technologies advance, said Darren Humphrey, Chief Technology Officer of DiSTI.
Adopted by luxury automotive manufacturer Jaguar Land Rover and visionary specialty aerospace developer Scaled Composites, GL Studio delivers on the panacea of end-to-end user interface development in a single tool chain. These companies, along with hundreds of others across the aerospace, medical, automotive, and simulation market segments, choose GL Studio for the following reasons:

100% correlation between the Industrial Designers vision and the end product
Ability to reuse the design all the way through the development process: Prototyping, Verification and Validation, Integration, and Deployment
Shorter production cycles
Natively supports 3D OpenGL content
Broad support for desktop and embedded hardware systems
For more information on GL Studio 4.5, or to request a trial download, please visit http://www.glstudio.com.
About DiSTI

DiSTI is a global leader in the development of User Interface software for businesses, governments and the military. The companys flagship product, GL Studio, enables programmers and user interface developers to build high-fidelity 3D interactive graphics and controls for use in any product with a 3D graphics chip.
Hundreds of customers worldwide, including BAE, Boeing, Dassault, FedEx, Lockheed Martin, Honeywell, Raytheon and Thales, use DiSTI interface solutions to deliver devices and applications that improve the user experience for embedded systems, computer based training, maintenance training, and safety-critical devices. As a full service provider, DiSTI offers a complement of customer programming and development services, and is the recognized leader in training solutions for the global simulation and training community. For more information, visit

http://www.disti.com.