Contex Unveils HD iFLEX A2 / C-Size Flatbed Scanner for Unmatched Scanning Capabilities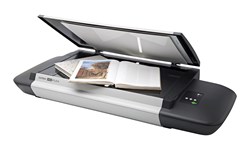 Rockville, MD (PRWEB) September 13, 2013
Contex, the world's leader of wide format scanning and imaging solutions, today announces the launch of the intuitively designed HD iFLEX flatbed scanner. Speed, versatility, and an ultra-flexible design make the Contex HD iFLEX the perfect scanning solution for the demanding user. The HD iFLEX's innovative design gives users the flexibility to capture originals without the restrictions typically associated with other flatbed scanners. For example, its unique adjustable lid can be raised or removed to accommodate fragile, oversized, and thick originals, such as books, textiles, newspapers, clippings, plants, stones, etc. The HD iFLEX is also capable of doubling its scanning area from A2/C-size to A1/D-size, and unlike other flatbed scanners, its single camera design eliminates stitch errors in an image. The HD iFLEX ships September 27th and is available now for pre-order from Contex distributors and resellers.
"The HD iFLEX builds upon Contex's history of driving innovation by offering users a scanner unmatched in image quality and adaptability," says Jacob Bendix, General Manager EMEA-AP & Head of International Marketing. "The flatbed scanner can be used for a diverse range of applications. Imagination is the only limit."
Scan Books and More with Flexible Color Spaces
The HD iFLEX uses a single CCD camera with full 600 x 600 dpi optical resolution to capture uneven materials in a single scan. It easily facilitates the scanning of books and printed materials into several individual files or multipage images, with a counter to keep track of the pages as they are turned. Ultra-bright LED light also delivers targeted, detail-enhancing illumination to originals by removing unwanted shadows from scans, only preserving those necessary to give depth and texture. The flatbed scanner delivers images with high color fidelity in Adobe RGB, sRGB or even RAW RGB in full 48-bit color.
The HD iFLEX uses the latest intuitive technology to streamline the scanning process, delivering a flatbed scanning experience unlike any other. For example, Contex Nextimage software enables the HD iFLEX's oversized document scanning capability and supports Contex's one-touch, high-speed scanning feature that captures an entire image in four seconds. Cloud-based solution PageDrop also simplifies scanning by allowing smartphone and tablet users to send scans from the HD iFLEX directly to desired web destinations without a computer or additional software.
For more information about the HD iFLEX, email salesamerica(at)contex(dot)com.
About Contex
As the world's largest developer and producer of large format imaging solutions, Contex leads the market with innovative technology and advanced scan and copy software applications. Over the years, Contex scanners have received numerous awards from leading trade publications and analyst firms including Cadalyst, Wide-Format Imaging, and BERTL. Sold worldwide in more than 90 countries, Contex solutions are recognized in a wide range of industries for reliability, value, high performance, and superb image quality. For more information, please visit http://www.contex.com.