Chitresh Das Dance Company & Chhandam School of Kathak Debut Traditional Kathak Solo, Featuring Rina Mehta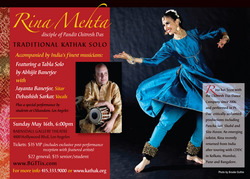 Los Angeles, CA (Vocus) April 17, 2010
Chitresh Das Dance Company and Chhandam School of Kathak are pleased to present emerging soloist Rina Mehta, member of Chitresh Das Dance Company and disciple of internationally renowned Kathak master and guru Pandit Chitresh Das , in a debut Traditional Kathak Solo.
Mehta will give a performance of lighting fast footwork and pirouettes, rhythmic interplay, and nuanced, graceful movements that is characteristic of Kathak dance on Sunday, May 16 at 6 pm at the Barnsdall Gallery Theatre in Hollywood. No Kathak performance is complete without the rendition of a story, and Mehta, true to tradition, brings to life the ancient myths of India – the sensual love between Lord Krishna and Radha or the wrath of Lord Indra, god of rain and thunder. Amidst the rendering of the traditional aspects of Kathak, Mehta will highlight Kathak Yoga – a ground-breaking innovation that highlights the sophisticated mathematics involved in Indian classical dance.
Mehta's performance will be accompanied by some of India's finest classical musicians, including Sri Abhijit Banerjee on tabla, Sri Jayanta Banerjee on sitar and Sri Debashish Sarkar on vocals. The performance opens with a special tabla solo by esteemed percussionist and musician, Sri Abhijit Banerjee.
Conducting the evening and performance as is customary in a debut performance such as this will be the master artist, Pt. Chitresh Das, himself. "As a flower grows over time, so the making of a dancer at the highest artistic level flourishes over time, he has said.
This event is part of the ongoing 30th Anniversary Celebration of Chitresh Das Dance Company and Chhandam Scool of Kathak. The Celebration began in San Francisco in March, where a performance and gala event featured India Jazz Suites, the award-winning collaboration between Pt. Das and tap star Jason Samuels Smith. It continues in April in India, with the opening of Chhandam's newest branch in Mumbai. In May, the Celebration continues by honoring individuals, presenters and community leaders in Los Angeles who have played critical roles in advancing world class Kathak. Among those to be recognized during the May 16 event at Barnsdall Gallery Theatre are Michael Alexander of Aman Folk Ensemble and Grand Performances; Leona Wood of Aman Folk Ensemble; Harihar and Paula Rao of Music Circle; and Harkishan Vasa, president of the Anekant Community Center.
About Kathak

The pure thrill of the Kathak solo comes from upaj (improvisation) – one never knows what will come next. In a traditional solo performance, the dancer and musician come together with little or no rehearsal, following a loose structure and a selected underlying rhythm. Each performance is a new creation, based on the mood of the dancer and musicians, the audience, the time of day, and a myriad of x-factors. The focus of the performance is on the skill of the dancer and the rhythmic interplay between the dancer and musician, with little emphasis on production elements such as lighting or props. Highly unpredictable and risky, the traditional performance is considered the highest level of mastery in Kathak and a deep physical, mental and spiritual undertaking. The performance requires that the dancer undergo years of direct training under a guru and possess tremendous skill in each of the four elements of Kathak – tayari (stunning technique in footwork, pirouettes and movement), layakari (performing and improvising intricate rhythms) and khoobsurati and nazakat (beauty and subtlety of movement and expression). Over the past four decades, traditional Kathak has been in rapid decline, replaced in India and internationally by choreography, group productions, and fusion art forms. Many of the performances no longer maintain the level of improvisation and technique historically related and central to the Kathak. This performance highlights Pandit Das' and CDDC's commitment to preserving and advancing the traditional Kathak solo.
About Pandit Chitresh Das

A child prodigy, Pandit Chitresh Das has become one of the most dynamic and far-reaching artists to emerge from modern India. A prolific artist, his traditional performances, choreography and evolution of Kathak, the classical dance of North India, have influenced the art form worldwide. Trained from the age of nine by his guru, Pandit Ram Narayan Mishra, Pandit Das was schooled in both major Kathak traditions, embodying each in his artistry: the graceful and sensual elements of the Lucknow school combined with the dynamic and powerful rhythms and movements of the Jaipur School. His performing career was launched in India when he was invited by Pandit Ravi Shankar to perform in the first Rimpa Festival in Benaras. He has since performed throughout India and internationally in many of the world's most prestigious festivals and venues, including the Lincoln Center, the Olympics, the Surya Festival in Chennai, the Dover Lane Conference in Kolkata, the National Kathak Festival in New Delhi, the American Dance Festival and many others. In 2004 Pandit Das was featured in a national PBS television program, his performance in a historic court in Kolkata was broadcast on BBC national U.K. television and he is regularly featured on Indian national television. Pandit Das now spends a large amount of time in India performing, giving workshops and teaching at his school, Chhandam Nritya Bharati, in Calcutta. Pandit Das ultimately sees art as a service to society and devotes time to those in need, including teaching children in the slums of India, the Blind Opera of Calcutta and his most important project of teaching empowerment and self-awareness through dance to the daughters of sex workers, in partnership with the New Light Foundation in Calcutta, India.
About Rina Mehta

Rina began her study of Kathak under Pandit Chitresh Das in 2000. Since joining the Chitresh Das Dance Company in 2004, she has performed in Das' critically acclaimed productions including Sampurnam, Pancha Jati and Shabd (featuring the groundbreaking technique of Kathak Yoga). In 2009, Rina was awarded the Apprenticeship Grant from the Alliance of California Traditional Arts for intensive training with Pt. Chitresh Das in the Traditional Kathak Solo. Rina recently returned from India performing with CDDC in Kolkata, at the NCPA/Tata Theatre in Mumbai, at the Shaniwarwada Dance Festival in Pune and at the Bangalore Club in Bangalore. Rina is Director of Chhandam, Southern California; a senior instructor at the Chhandam School of Kathak; and an active participant in CDDC's arts education programs.
The Traditional Kathak Solo performance by emerging soloist Rina Mehta takes place on Sunday, May 16 at 6 pm. The Barnsdall Gallery Theatre is located at 4800 Hollywood Blvd., Los Angeles, CA 90027, just west of Vermont Ave. There is ample free parking on site. Tickets range from $ 15-$ 35. For more information and to purchase tickets, the public should call (415) 333-9000 or go to http://www.kathak.org.
Contact:

Lucy Pollak (for media only)

(818) 887-1499
# # #
More Ram Press Releases