Best Web Design Firm – Buildrr – Ranks #1 on 10 Best Design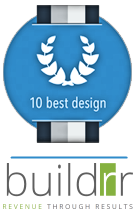 Syracuse, New York (PRWEB) September 05, 2013
Representatives of 10 Best Design announced the new 10 Best Web Design Firms awards, featuring Buildrr as the number one best agency. Buildrr, a Syracuse, NY web design firm, showed as the best of the design firms in providing cutting edge websites. Criteria included helping their clients keep up with the Information Age, whether or not the client is strictly an Internet business or entrepreneurial idea.
Buildrr has been among the top three firms on this list for a number of months, a representative said. In fact, they have been ranked as the number one web design firm for two consecutive months. Ten Best Designs provides information and rankings on all candidates.
In considering the candidates for awards, 10 Best Design spends countless hours analyzing and comparing firms from all over the world. They say the winners were chosen because they represent unique talent in the industry. The decision is based on the results of quantitative analysis and quantitative variables processed by an algorithmic computer program.
It is 10 Best Designs belief that the award winners keep the industry moving forward because they do not just follow trends, they create them. Buildrr was cited for providing clients with top of the line design services to meet all their wants and needs. Buildrr was recognized for building more than your average website.
According to 10 Best Design, Buildrr provides clients all around the world with web design services and packages. Buildrr also specializes in marketing their clients website to effectively compete in todays marketplace. They offer unique, custom designs that put their clients at the head of their industry.
In addition, Buildrr received the award because they offered services that clients do not see from other website services, like creating website traffic, an over-arching design scheme, implemented applications, features and more. These services set Buildrr apart from other website services.
With its previous rankings of number 1, 2 and 3, Buildrr is one of the top website services in the world. Buildrr delivers excellent services and amazing customer satisfaction. Salon Groupie and Progressive Angola were two examples of recent work attributed to Buildrr that were shown on the award presentation website. Buildrrs motto is revenue through results and we build businesses.
The Buildrr website says their clients great ideas inspire them, and they offer categories of services like traffic, website and app on their website. Buildrrs traffic building page emphasizes detail stuff like planning, promoting, selling, fulfilling, servicing and then starting over again.
The Buildrr website says the level of effort necessary to take an idea from conception to revenue stream is important. They offer traffic services like pay per click, SEO, social media marketing, video marketing, conversion optimization, automated marketing and more to bring traffic to a clients site.