U.S. Cities That Should Have an NFL Team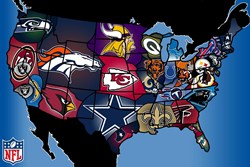 Los Angeles-CA (PRWEB) July 23, 2013
With the start of NFL training camp and the imminent football season upon us, this is a glorious time of year for most football fans. But for fans who live in cities that do not have their own local NFL team, the feeling is bittersweet.
Adding or moving NFL franchises is a highly debated topic on which not everyone agrees. But that will not stop fans from populous urban centers, like Los Angeles and Las Vegas, from expressing their opinions on the matter. Thousands of fans recently visited Ranker.com to vote on which city is most deserving of its own team.
The Top 10 Cities That Should Have an NFL Team Are:
1.