Twin Brother Entrepreneurs, Rebuffed by Golf Channel, Find Success With PGA, MLB, NFL. New Product Released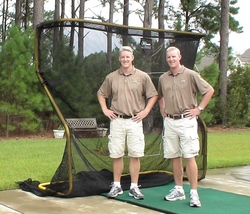 Fair Lawn, NJ (PRWEB) March 18, 2010
Just months after being cut from the Golf Channel TV show, Paul and Matt contracted for exhibiting space at the 2008 PGA Merchandise Show in Orlando, FL. The largest golf industry show in the world with over 35,000 attendees.
Armed with only two prototypes in hand, and no actual nets to sell, the brothers demonstrated their new net design to the audience of industry professionals. As the only training net in the world that automatically returns a ball to a athlete, Paul and Matt's design wowed the audience.
The brothers' golf net can safely absorb golf shots in excess of 225 mph, gently returning the ball to the tee. The industry also loved the "Instant Shot Feedback", providing golfers insight into each shot they take. The net can easily be transported in a lightweight duffle bag and takes a person five minutes or less to set up. Another great advantage is that the net can be used for multiple sports: Baseball, Softball, Soccer, Football and Lacrosse.
Following the PGA Merchandise Show, purchase requests came in from golf industry professionals and organizations from around the world. With this momentum Paul and Matt officially launched their new startup company called The Net Return.
Over the next year major golf and sporting good retailers began calling, looking to distribute and sell their new net. Paul and Matt took the unusual step of declining the offers of big box retailers and instead, sell through their own website – http://www.TheNetReturn.com, along with Amazon.com They also made the decision to manufacture their product in the U.S.A.
The Net Return has quickly been adopted by such well known organizations as the PGA, Cincinnati Reds, Bridgestone Golf, Titleist Performance Institutes, Clemson, BYU, and the University of Connecticut, among others. The U.S. Military now use Net Return golf nets for Soldier recreation in Iraq and Afghanistan, while the Veterans Administration are using the sport nets in over 35 Army Hospitals, including Walter Reed, for the rehabilitation of wounded and disabled veterans. This is due in large part to the efforts and funding of Golf Supports Our Troops.
The Net Return is now introducing its second product called The Net Return "Extra Point" – a training net specifically designed for football punters and placekickers. After extensive testing and a limited release to NFL and College teams, the product will begin shipping in April of this year. The "Extra Point" provides significant advantages over traditional kicking nets. Advantages include: ball return, a catch feature (eliminating wet or waterlogged footballs) and the ability for a punter to warm up during critical game situations at full velocity. A feature not seen in traditional football nets.
NFL teams quickly saw the additional benefits for their punters and placekickers. The "Extra Point" is now being used by the Dallas Cowboys, New York Jets, Tampa Bay Buccaneers, Denver Broncos, St. Louis Rams, San Francisco 49'ers and the Miami Dolphins.
To learn more about The Net Return, LLC. including sport specific videos, photos, product details and their appearances on the Golf Channel, visit http://www.TheNetReturn.com
Media Contact:
Christopher Maneri

The Net Return, LLC.

cmaneri(at)thenetreturn(dot)com

973-636-7354
###
Related Ram Press Releases