StyleShoots Enters the US with Revolutionary Photo Studio for Fashion; Dramatically Reducing Costs and Simplifying E-commerce Logistics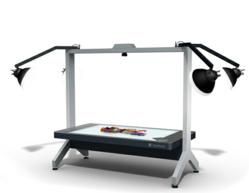 NEW YORK, NY (PRWEB) July 09, 2013
StyleShoots, a Netherlands based tech company, has developed a game-changing machine for the e-commerce business that has just landed in the fashion capital of the world New York City. Companies like Tommy Hilfiger, Marks & Spencer, Perry Ellis, Valentino, G-Star and Macys are already using the StyleShoots machine to cut time and costs for high-resolution product photos for their e-commerce and catalogues.
StyleShoots is an all-in-one system comprised of an illuminated glass tabletop, daylight simulation lamps and a Canon 5D Mark II DSLR camera. The system is powered by an embedded Mac mini computer and controlled by the user entirely via an iPad running a custom app. Files are ready for web in seconds, because StyleShoots processes and exports in photos in custom sizes, qualities and formats automatically. By keeping ecommerce photography in-house, costs and time are cut to a fraction of outsourcing.
StyleShoots uses a unique dual-shot process to automatically cut out products. The process known as Auto Alpha takes multiple images and applies advanced software tricks. Particularly time consuming (sometimes impossible) items like fringed scarves, lace garments and fur coats are automatically delivered with a transparent background in seconds. Mastering backlight, camera and processing power, StyleShoots takes two photos one with the LED backlight on, and one with it off. Analyzing over 20 million pixels across multiple images, it precisely cuts out the product and delivers true alpha transparency in less time that it takes to style the next garment on the table.
In response to the boom in fashion e-commerce, Maurits Teunissen and Bartel Huibregtsen founded StyleShoots in 2011 to simplify one of the most important steps in the process – photographing products for online display. We wondered how we could put a man on the moon in the 60's, yet we were still manually cutting out the background from product photos, explains Teunissen Thousands of hours are spent on this tiresome task every single day. It's all about giving way to creativity by removing boring steps and chores in a smart, engaging and effective manner. Designers, wholesalers and retailers can sit back and focus on what they're best at.
StyleShoots is available for purchase and lease through Focal Media Group, located at 325 W 38th Street, Suite 703 New York, NY 10018.
For more information visit styleshoots.com