Serenity Pool & Spa of Bonita Springs, Florida Earns Honor as Number 40 Builder Nationwide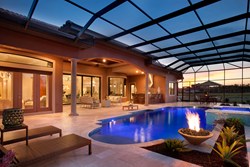 Bonita Springs, Florida (PRWEB) July 17, 2013
Serenity Pool & Spa, a subsidiary of Stock Development located in Bonita Springs, has earned a spot on the Pool & Spa News Top 50 Builders list for 2013.
Serenity Pool & Spa notched the number 40 spot on this nationwide list of the top companies in the pool and spa construction business.
This is the second year that the Pool & Spa News Top 50 Builders have been selected using new, more well-rounded criteria, and the competition has become fierce, said Rebecca Robledo, senior editor of Pool & Spa News. While many of last years group made the cut again, we welcomed 10 newcomers who had the right combination of construction revenue, staffing proficiency, industry involvement, web presence and community engagement.
Gary Martin, President of Serenity Pool & Spa, said the company was proud to have been recognized for its achievements.
This is a terrific honor, said Martin. It is a testament to the experience and dedication of our staff that we can rank this high among our peers nationally. We pride ourselves on our customer service.
Residentially, Serenity Pool & Spa offers design choices that range from traditional to modern and are coordinated perfectly with the style of one's home. Homeowners can choose from the high-tech to the romantic, from the visually appealing to the fanciful and fun. To enhance its selection of pool choices, Serenity Pool & Spa features a wide selection of swimming pool and spa designer packages, making it easy to create the pool of your dreams.
The company's experienced staff works closely with all its customers through every step of the construction process from the design to the material selection process and through the actual construction. From screen enclosures to decks and landscaping, the company creates pool areas suitable for year-in, year-out fun in the sun. Spectacular nighttime lighting systems, cascading water features and fountains and dramatic mosaic tile designs are just some of the customization possibilities.
Serenity Pool & Spa is also experienced in all facets of aquatic commercial construction. Tropical resort lagoon pools, massive rock water features, lap pools and interactive wet decks are just a few of their recent projects. The company works with the client to create the perfect recreation area that will provide years of enjoyment and aesthetic compliment.
Serenity Pool & Spa is located at 24551 Production Circle, Suite 3, Bonita Springs, Florida. For more information call (239) 597-7623 or email them at sales(at)serenitypoolandspa(dot)com. Visit them on the web at http://www.serenitypoolandspa.com.