Nursery Rhymes Music Videos by EFlashApps Go Viral on YouTube and Mobile Apps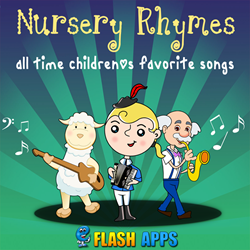 Fredericksburg, Virginia (PRWEB) August 03, 2013
From Preschool-Kindergarten Apps to Nursery Rhymes music videos, EFlashApps is becoming the one-stop-for-all web and mobile educational entertainment content for parents and children. Virginia based ed-tech company EFlashApps, developers of educational smartphone and tablet apps, recently partnered with YouTube to launch the EFlashApps YouTube channel. This channel features original animated Nursery Rhymes videos and previews of their mobile apps available on the Apple App Store and Google Play. The EFlashApps Nursery Rhymes videos have gone viral on YouTube, nearing 10 million views by a worldwide audience of parents, teachers and children.
YouTube search for popular rhymes like Old MacDonald Had a Farm, Twinkle Twinkle Little Star or Baa Baa Black Sheep display EFlashApps videos on the first page of results. "The surge in views comes from parents and teachers seeking the highest quality music and animations for their kids and students", said Meeta Shah, CEO and Founder of EFlashApps.
"Poor quality videos have traditionally shown up on the first page on YouTube when searching for songs like Baa Baa Black Sheep. They show on the top just because they were launched several years ago and keep getting viewership on that basis", said Shah. EFlashApps sought to provide an entirely different viewing experience with the launch of their Nursery Rhymes albums on YouTube. Original studio production song recordings, detailed character, storyboard, animation and HD 1080p rendering all come together in the creation of these videos. "It takes a tremendous amount of effort and time to produce such high quality content to meet and exceed the expectations of today's viewers. Ultimately, the final product is simply stunning", said Shah.
According to Shah, today's viewers have extreme high internet speeds with faster computers and are seeking HD quality content for their children. The exponential rise in the EFlashApps videos viewership thus comes as no surprise. Parents, teachers and children searching for educational and entertaining videos on YouTube via their computers, phones or tablets are selectively viewing higher quality educational content such as the EFlashApps videos.
Nursery Rhymes, Vol. 2 is now available on iTunes, Google Play and Amazon and animated videos of this new collection are featured on the EFlashApps YouTube channel. "With each new album, we aim to provide an enriching educational and musical experience like never before for our young viewers. Creative works is in its highest gear at EFlashApps with a third music album in production and several exciting animations in design. Stay tuned by subscribing to our YouTube channel", said Shah. An interactive mobile app featuring these videos along with built-in games and activities for a greater learning experience is soon to be launched.
EFlashApps is a YouTube Partner and subscription to EFlashApps channel is free. The songs from the albums Nursery Rhymes – All Time Children's Favorite Songs and Nursery Rhymes, Vol 2 by EFlashApps are now available for download on iTunes, Google Play & Amazon.
About EFlashApps (http://www.eflashapps.com):
Founded in 2009, Fredericksburg, Virginia based company, EFlashApps is a mobile applications development company focusing on creating mobile apps and web-based online curriculum geared towards early childhood education.
EFlashApps Baby Flash Cards apps are now available in 12 languages. Additional apps include series of First Words apps for preschool to second grade levels and Kids Picture Dictionary. EFlashApps Nursery Rhymes music albums are available on iTunes. The EFlashApps YouTube Channel features original animated videos of songs from the Nursery Rhymes albums. The company provides sneak previews, promo codes, updates and news on its website and social media pages. Parents and educators are encouraged to join EFlashApps Facebook page for these updates.
For media inquiries, employment opportunities and business relations visit: http://www.eflashapps.com.