NAPW Loudoun County, VA Chapter Shared Networking Tips & Worked Together to Set Exciting Goals for the Chapter in April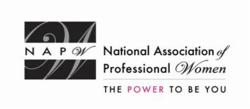 Garden City, NY (PRWEB) June 11, 2013
Members and guests of the NAPW Loudoun, VA Local Chapter gathered on April 23rd for a professional networking event at Eggspectation in the Village at Leesburg in Leesburg, VA.
During the breakfast meeting, the group of professional women networked with one another and learned more about each others business endeavors. Members and guests also discussed how the Chapter could give back to the community by working with nonprofit organizations in the area.
NAPW Loudoun County Local Chapter President Jennifer Jank kicked off the Chapter meeting by welcoming the attendees. She distributed NAPW Welcome Packets, Pads and Pins to the new members and welcomed those members who were present at the Chapters launch in March.
Members and guests went around the table and introduced themselves. In addition to their introductions, the group of professional women shared networking tips with each other.
This was the second meeting of the Loudoun County Local Chapter, said Chapter President Jank. It was a very productive meeting for the new Chapter!
Several of the members were eager for the upcoming national NAPW National Networking Conference that was to be held three days after the breakfast meeting. In addition to anticipating the presentations and keynote speeches from Martha Steward and Arianna Huffington, they intended to spend some additional time enjoying the opportunity to visit New York City the weekend following the Friday all-day conference. Those members going promised to bring back stories for those who were unable to make it.
During the breakfast meeting, members and guests discussed the upcoming charitable event possibilities that the Loudoun Chapter could support, eventually deciding on the Cascades Firechase and 911 Fun Run on May 25th that will benefit the Sterling Volunteer Fire Company. The run will be the charitable event for the second quarter of the year, and the Chapter will seek suggestions for ongoing charitable events as well.
We agreed that charities local to Loudoun County, or at least those that have a local effect, are preferable for the charitable activities that we will support, said Chapter President Jennifer Jank.
The members are excited to give back to the community on a regular basis.
The Chapters first guest speaker, who will be showcased in June, was designated. Robyn Ilsen, who is also a Loudoun Chapter member, will give a short presentation on marketing for small businesses. She will speak at the next monthly breakfast meeting that will be held June 25th at Eggspectations in Leesburg, Virginia.
Members attending the April networking meeting were: Kim Horton, Co-owner of and Physical Therapist at Restore Physical Therapy and Wellness, which just opened in Ashburn; Linda Hoyt is a Realtor with homebuilder Pulte Homes; Robyn Ilsen works in marketing at Network Depot; JJ Jank, President of the Chapter, is a full-service Financial Planner with Raymond James Financial Services in Sterling; Debra Kabalkin runs BDO, an HR consulting firm; Monica Pillor is a Realtor with Keller Williams Realty; Vicky Quick heads Que Graphics, a graphic design company and Marcia Swartz is a Legal Nurse Consultant with MDS Legal Nurse Consulting focusing on medical malpractice.
The National Association of Professional Women (NAPW) is the largest and most recognized network of female professionals. NAPW provides a forum where women can interact, exchange ideas, educate, network, and empower. NAPW Local Chapters allow members to maximize their experience through meetings, networking opportunities, and professional events.
For additional information regarding the NAPW Loudoun County, VA Local Chapter and/or NAPW, please visit http://www.napw.com.
Follow NAPW on Facebook and Twitter.