Janet Echelman Sculptures Ranked #1 in O, The Oprah Magazines Wow List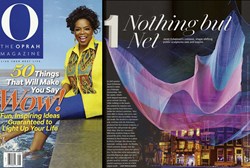 Brookline, MA (PRWEB) August 06, 2013
Studio Echelman today announced its original public artwork has been ranked #1 in the Wow List published by O Magazine, The Oprah Magazine, in the August issue. The list showcases 50 people, places, or things, for their ability to inspire and captivate viewers.
According to the editors at O Magazine, the first-ever Wow List is a collection of startlingly wonderful things so eye-opening, so marvelously, deliciously unusual.
To view the article in O Magazine, visit: http://www.oprah.com/spirit/Os-2013-Wow-List-Amazing-Inventions-Cool-Art
Echelmans billowing sculptures, including the featured image of 1.26 Amsterdam in the article, are constructed from ultra-strong fibers more than 15 times stronger than steel by weight. This super-lightweight design makes it possible to temporarily attach directly to existing architecture.
Echelman is integrating this bold new approach into cities throughout the globe. Together with a team of engineers, lighting designers, computer scientists, and architects, Studio Echelman is reshaping urban airspace with fluidly moving sculptures that respond to environmental forces including wind, water, and sunlight.
I believe that public space should be intentional: it should be obvious that you belong, said Echelman, whose billowing, voluptuous sculptural forms invite us to linger beneath them.
Recent prominent works include: Her Secret is Patience spanning two city blocks in downtown Phoenix, Water Sky Garden which premiered for the 2010 Vancouver Winter Olympics, She Changes on the waterfront in Porto, Portugal, and Every Beating Second in San Francisco Airport's new Terminal Two. Echelman was named an Architectural Digest Innovator, selected as a global design leader challenging received wisdom and conjuring a bold new world.
Follow Studio Echelman on Facebook: https://www.facebook.com/studioechelman
For additional information regarding Studio Echelmans sculpture, contact Melissa Henry, melissa(at)echelman(dot)com.
Studio Echelman

Studio Echelman explores the cutting edge of sculpture, public art, and urban transformation.
###