Its Risky Business for Tech Startups; Criticue.com's New Platform Will Prevent Early Mistakes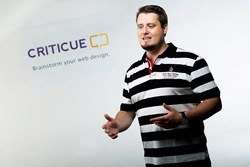 (PRWEB UK) 16 July 2013
(Marketing Empire PR) – To many, the biggest lure of the tech sector lies in possibility of becoming the next big thing, and, of course, the potential for lucrative returns never hurts. Unfortunately, despite their best efforts and, oftentimes, a great idea, a significant number of tech startups are destined for failure.
According to Inside Startups, 20 percent of businesses are doomed to fail within the first year of being established, and about 50 percent fail within three years. There are a number of reasons why an enterprise may fail to prosper, but The Financial Times Guide to Business Start Ups has said that 20 percent of failed companies would still be in operation if they had gotten advice at the beginning of their venture.
For those who are building a new website or creating a new app, Criticue.com can provide honest, thoughtful advice from fellow web and app designers. Users of the site reciprocate by providing reviews for others. After making changes, a website or app can be resubmitted, and members can continue the process until they are satisfied with their feedback and ready to roll out their new site or app.
Ilya Berelson utilised the innovative review site to get feedback on a number of projects and also for help in designing http://www.2fb.me. He commented, Nothing is more valuable to a product or service than a first impression. As a web engineer, I get to experiment with new features and designs and then get a few (first impressions) with Criticue. Criticue can be a websites best business partner. The reviews are sometimes harsh, but that's OK. Every new review on Criticue simply encourages your service to be as clear and perfect as can be.
Its not surprising that Criticue has been called one of the most promising tech startups of 2013. Martin Bilski, CEO of Designed.ly, has said, Criticue will create micro-communities of expert tech developers, providing each other with qualified reviews and suggestions on way to improve their software or avoid pitfalls an incredibly comprehensive resource provided for free to all users.
Theres no doubt that the companys growing popularity will enable it to beat the odds that face many newly established businesses, and with the likes of Google and Yahoo acquiring tech start-ups for their creativity, software, branding and members – odds are on for Criticue to be next in line to receive bids for the platform.
A recent report compiled by five top academic institutions examined the Goldman Sachs 10,000 Small Businesses programme and determined that innovative ideas and models were necessary to the continued growth of small businesses. With companies like Criticue.com driving the innovation and support of new Internet enterprises, many startups in the tech sector will easily move past being considered risky business to being hailed as good business.
— END —
You have full permission to rewrite this article and feature it online/offline. For photography, high-res images, or interviews – please contact using the details below.