Group Mobile Adds NEXCOMs Economical Tablet Computers to Product Offerings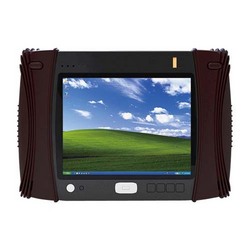 Chandler, AZ (PRWEB) March 24, 2010
Group Mobile, an online reseller of rugged computers has recently added NEXCOMs MRC 2100 and MRC 2300 economical rugged tablet PCs to its product offerings on groupmobile.com.
Group Mobile, well known for carrying leading brands in rugged laptops, rugged tablet PCs, rugged UMPCs (Ultra Mobile PCs), and rugged handheld computers has extended its product offerings to include NEXCOMs MRC-line of rugged tablet computers. The MRC 2100-e and MRC 2300 are rugged and economical tablet PCs designed for mobile workers requiring real-time information in a variety of working conditions.
The rugged NEXCOM MRC tablets each provide a strong and flexible mobile computing platform at a very affordable price," stated Richard Lawson, President of Group Mobile. Priced under $ 2000, these rugged tablet PCs are cost-effective solutions for warehouse management and logistics applications, as well as outdoor applications such as field data collection, inspection and surveillance, building automation, mobile CRM, meter reading, asset management, plant operations, fleet management, shipping and receiving, and many others.
We are pleased to add Group Mobile as our newest Global Partner, said Alan Yao, Director of Sales for Nexcom. Group Mobiles understanding of the rugged computer market combined with the companys stellar customer service will create a win-win relationship for both NEXCOM and Group Mobile.
The MRC 2100 and MRC 2300 mobile rugged computers are among the most durable and economical rugged tablets on the market today. Both tablets offer sunlight viewable touchscreen displays and integrated wireless features such as WiFi 802.11/b/g/n, Bluetooth and GPS. The MRC 2300 also features a hot-swappable battery which allows users to change the battery without turning off the tablet. Ergonomic, yet durable designs make these tablets suitable for use even in harsh environments. To learn more and purchase the MRC 2100-e and MRC 2300 economical rugged tablets, visit groupmobile.com/brand.asp/dept_id=/mf_id=69/sku=4407/NEXCOM.html.
About Group Mobile

Headquartered in Phoenix, AZ, Group Mobile serves customers all over North America. Customers range from Fortune 500 companies and the U.S. Military, to local police/fire/ambulance, to small and mid-size businesses, to the frequent traveler that needs something more durable than a commercial, off-the-shelf computer. Group Mobile carries all the leading rugged computing brands. In addition, Group Mobile offers vehicle docking and mounting equipment from Gamber Johnson, Ram Mounts, Jotto Desk, and Havis/Ledco. To learn more about rugged computers and how they differ from commercial, indoor computers, check out the Rugged Computer Guide or visit us online at groupmobile.com.
About NEXCOM

NEXCOM International Co. LTD., an ISO-9001-certified company and a member of PICMG, PCI-SIG, and Intel Communications Alliance, is at the forefront of the competition by offering OEM, ODM and OBM designs for products such as innovative blade servers; network security appliances; industrial and embedded PC products such as single board computers, embedded boards and systems; CompactPCI CPU boards; industrial-grade server boards; and customized platforms. Established in 1992, NEXCOM has since won several patents, awards, certifications for its high-quality products and service that meet international standards and worldwide customers' requirements. To serve its worldwide customers well, NEXCOM, headquartered in Taipei, Taiwan, set up subsidiaries in the United States, the United Kingdom, China, and Japan as well as distributors in the other parts of the world.
###