Cisco Systems and GeekGaps.com Team up to Launch Digital Graffiti the Next Wave of Messaging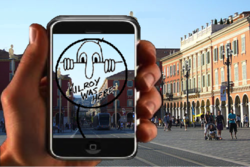 (PRWEB) May 31, 2013
Cisco Systems, the networking giant, and GeekGaps.com have collaborated to bring Digital Graffiti to the public. Using the open Wi-Fi pilot in Nice, France, a smart city demonstrator, Digital Graffiti will go live on June 17th, 2013. Digital Graffiti will showcase the benefits of location based free Wi-Fi by allowing iPhone/iPad users to create graffiti messages for others to view and comment on when they are in range of the message.
In Place Mozart and Bd Victor Hugo (a large tourist area in Nice) Digital Graffiti messaging will allow people from different countries to discover messages either left behind by their fellow countrymen or any country of the users choosing. Digital Graffiti will also be introduced at the Innovative City Convention on June 18th & 19th, positioning it for additional smart city deployments.
Anyone with an Apple iPhone or iPad can create or view a graffiti message at a particular location covered by the free Wi-Fi pilot (Android devices to be added later). With the free service, users can create one message per day (each message lasting a period of 7 days), choose the size and distance the message is visible (starting from 5 meters to 200 meters), and are alerted by email of how many people viewed their message. Premium features will allow graffiti authors to create additional daily messages as well as change the size, coloring, shelf life, and height of the message. Additionally, the premium service allows future decoration capabilities of the message remotely, which will include decorating it like real graffiti with graphics. The graffiti message can be placed anywhere within the free Wi-Fi outdoor space allowing others to see it when they walk within range of the message.
Mina Dillard, artistic director and co-founder of GeekGaps.com says, Digital Graffiti in the Place Mozart deployment is a fun creative way to connect with fellow countrymen and other nations without becoming a felon by spray painting or carving your initials into a tree, wet cement or a bathroom stall.
In the near future, Digital Graffiti will also be available anywhere in the world that is location enabled by Ciscos Wi-Fi outdoor or indoor. Cisco is the leader in the Wi-Fi market. Users will be able to leave messages for their colleagues, roommates, professors, family or anyone.