Brownells Donates to Iowa Valley Community College Gunsmithing Program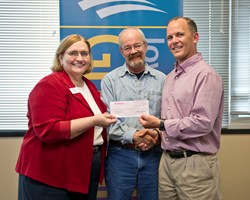 (PRWEB) July 16, 2013
Brownells The Worlds Largest Supplier of Firearms Accessories, Ammunition and Gunsmithing Tools is proud to announce its support of the newly created Iowa Valley Community Colleges Gunsmithing Technology program, located in Grinnell, Iowa.
On Tuesday, July 9, 2013, Brownells CEO Pete Brownell presented a check for $ 75,000 to MaryAnne Nickle, Dean of Iowa Valley Grinnell and Gunsmithing Instructor Dave Bennetts, a former Brownells Gun Tech. The money will be used to purchase machinery and equipment for the programs workshop.
We proudly support a number of educational institutions and programs across the country, said Brownell. Our involvement with Iowa Valley is extra special because its right in our own backyard, and pairs our support of education with our longtime passion for helping gunsmiths. Its also great to see a Brownells Gun Tech, Dave Bennetts, move on to fulfill his lifelong dream of teaching others his craft. We wish everyone at Iowa Valley the very best.
This is a major donation, said Nickle. It wouldve taken much longer to get this program up and running without it. Its very nice to align our program with an industry leader like Brownells. Between this relationship, our veteran instructor and our knowledgeable advisory board, the students will enjoy a great all-around educational experience.
Iowa Valley Community Colleges Gunsmithing Technology program still has openings available for its classes beginning August 26, 2013. The registration deadline is July 26, 2013.
Those interesting in learning more about Iowa Valleys new gunsmithing program are encouraged to visit their homepage.
Founded in 1939, Brownells is an Iowa-based, family-owned company that supplies more than 82,000 firearms parts, accessories, reloading components, gunsmithing tools, and ammunition to armorers, gunsmiths, the military, and shooters worldwide. In addition to their industry-leading 100% lifetime guarantee forever on EVERY product sold, their staff of veteran Gun Techs is available to assist customers with technical help to fix any gun-related problem – free of charge. There are no minimum order sizes or return/exchange fees. To place an order, or for more information, call 800-741-0015 or visit http://www.brownells.com.