AGI Granted Patent for Nonlinear Variable Lag Smoother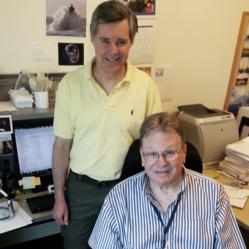 Exton, PA (PRWEB) June 11, 2013
Analytical Graphics, Inc. (AGI), the producer of commercial modeling and analysis software for the space, defense and intelligence communities, has been awarded a patent for work by James Wright and Dr. James Woodburn. Entitled Nonlinear Variable Lag Smoother, the patent (U.S. patent 8433544 B2) enables the solution of a new class of problems in estimation and control, with particular applications to spacecraft orbit determination.
The forward-running Variable Lag Smoother (VLS) solves nonlinear multidimensional estimation problems, provides results in near-real-time, combines filter and smoothing calculations with one user-specified operation and does not require calculation of a state-sized covariance matrix inverse. The VLS enables optimal solutions of existing orbit

determination problems and is utilized in AGIs Orbit Determination Tool Kit software.
Wright, AGIs senior advisory software developer, has contributed to three previous patents for AGI. Two focus on GPS carrier phase measurements, and the other estimates the orbits of spacecraft or other objects relative to primary celestial bodies, given applicable measurements. Woodburn, AGIs chief orbital scientist, has earned patents for methods for determining close approaches for Earth-fixed launch trajectories and calculating access between satellite constellations and ground targets.
Learn about all of AGI's patents here.
About AGI
Analytical Graphics, Inc. (AGI) delivers software applications and development tools for timely and cost-effective development and deployment of space, defense and intelligence missions. AGI products are used for modeling, engineering and operations in the areas of space, cyberspace, aircraft, missile defense, C4ISR and electronic systems. For more information, visit http://www.agi.com.