WHUK enhances focus on CMS Hosting Industry covering 31.4% of the worlds total websites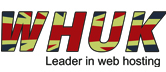 Leeds, UK (PRWEB UK) 10 June 2013
After the massive cyber attack targeting nearly 40 million vulnerable sites running WordPress CMS, all major web hosting and web security firms increased the security levels in order to protect websites and webservers across the globe.
The CMS Industry is huge with WordPress leading the list of most popular CMS platforms. WordPress is used by 18.1% of all the websites; that is a content management system market share of 57.7%, followed by Joomla and Drupal with 10.4% and 6.4% respectively.
To deliver secure and fast experience over a highly reliable web hosting platform, WHUK, a web hosting service provider in the UK since 2001, has enhanced security levels for its CMS hosting offering through server-level customization, backups and additional security filters, bundled with 24×7 free support.
A study by w3techs and BuiltWith shows the popularity of CMS platforms such as WordPress, Joomla, Magento, Drupal, OsCommerce, vBulletin, phpBB etc. growing at a rapid pace. Based on these facts, it has also become imperative to have a secure hosting platform which ensures protection of websites built on these CMS from various attacks and vulnerabilities over the Internet.
We take pride in being one of the best customer support providers in the web hosting industry today. Along with being prompt and friendly, we also follow a strict SLA with near instant resolution delivery to customer issues. We have also tweaked the support team training programs with inclusion of CMS related issues over a server platform, stated a representative from WHUK Technical department. With the recent news about the attacks on websites based on CMS platform-WordPress, weve further increased security over our servers. With server platforms highly optimised for CMSs combined with enhanced server security settings, we ensure protection of websites hosted with us, he further added.
About WHUK
Established in the year 2001, Webhosting UK Com (WHUK) Limited offers a wide array of value for money web hosting services including Linux/Windows Shared Hosting, Reseller Hosting, Cloud Hosting, Virtual Private Servers (VPS), Dedicated Servers, WordPress Hosting, Drupal Hosting, Magento Hosting, Joomla Hosting, eCommerce Hosting, SSL and Offsite Backup Solutions. 24x7x365 technical support is available and 99.95% uptime guarantee is offered as standard with their UK-based servers.
WHUK Contacts:

Address:

WebHosting UK Com Limited

Suite 1,

7 Commercial Street,

Morley, Leeds,

West Yorkshire,

LS27 8HX

Phone: +44-191-303-8069

Fax: +44-207-692-7267

E-mail: sales (@) webhosting(dot)uk(dot)com

Web: http://www.webhosting.uk.com

FB – facebook.com/webhostingukcom

Twitter – twitter.com/WebhostingUKcom

Linkedin – linkedin.com/groups/Webhostingukcom-4216172

Google Plus – plus.google.com/115237732625637217717/