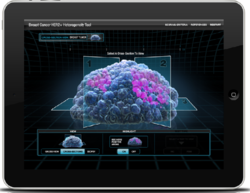 San Francisco, CA (PRWEB) June 18, 2013
Displaying work at the intersection of science, art, and technology, Viscira excited and inspired the crowd at Apples flagship retail store in San Franciscos Union Square last Thursday, June 13. While highlighting Visciras broad and cutting-edge digital capabilities, the presentation primarily focused on how the company is taking iPad development to the next level with its distinctive apps for education and marketing within the life sciences industry.
Viscira, a leading provider of interactive, new-media solutions and software products, effectively demonstrated how dynamic content like high-fidelity 3D animation, next-generation video, engaging motion graphics, and robust interactivityincluding gaming elementscan be brought together in unique ways on the iPad to better communicate key product and educational messages.
The event was well attended by a diverse audience that included pharmaceutical and biotech marketing managers, agency partners, members of the press, tech enthusiasts, job seekers, and curious bystanders. Apple representatives were also pleased with the event and expressed their interest in future opportunities with Viscira.
We were very happy with how the evening turned out, and appreciated the opportunity Apple gave us to showcase some of our work, said No