Trinetics Group Awarded Infrared Fusion Plastic Welding Contract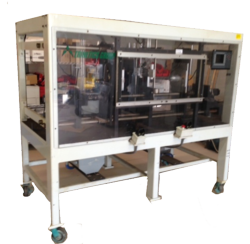 Melbourne, FL (PRWEB) June 28, 2013
Trinetics Group Inc was recently awarded a lab-trial contract with one of its major customers to utilize its lab and production infrared non-contact welder.
The Trinetics Infrared Non-Contact Fusion Welding System is a breakthrough in welding technology. The Directed I/R system expands the capabilities of thermoplastic welding by enabling plastics manufacturers to bond very intricate components with cooler, safer and energy-efficient non-contact welds and utilizing a dual array design can join two dissimilar plastic materials with differentiating melting points can be joined.
In Directed Infrared Fusion Welding the parts being welded never come in contact with the infrared array, as they do with the hot platen in standard thermoplastic welding. This eliminates material buildup on the welding arrays, which diminishes requirements for press ventilation systems, as well as reducing joint consumption and flashing, maintenance and downtime. This technology allows the use of short heat cycle times and has many advantages over hot platen processes. According to Mike Munnings, the president of Trinetics Group, "This offers up to 75 percent savings with go green energy efficiency, a cooler work area, 15 second startup times, average of 10 second production cycle times, reduced maintenance as no material is built up on arrays, the PLC logic is operator friendly and its entry way is operator safe."
Directed Infrared Fusion Welding runs the same thermoplastic items as other plastic welding systems and can be designed as a bench or floor model, be operated manually or fully automated, integrate testing and other automated activities while providing greater design flexibility than traditional stand alone systems.
Trinetics has become a leader in the development of thermoplastic assembly systems. Along with directed infrared, other exclusive Trinetics systems include the patented Series 5000 Hot/Air Cold Form Staking System, and the Series 7000 Power Orientation Welder. The Power Orientation Welder has the present capacity to handle circular joints from 1/8 inch to 48 inches in diameter with horsepower ranging from 1HP to a powering 150HP.
For more information on plastic welding solutions, call (321) 383-3456 or visit http://www.TrineticsGroup.com. Trinetics, family-owned and operated since 1975, is a leader in the plastic welding industries.
About the company:

For over 30 years, Trinetics has satisfied the plastic welding needs of both major corporations and small businesses throughout United States and abroad. Trinetics Group's Plastic & Metal welding systems are designed and build with the philosophy of providing the right equipment for the application. Allied Signal, HoneyWell, Dell Computer, Gateway Computer, IBM, Cuno, Whirlpool, Stanadyne, and General Electric are just a few who have benefited from their experience and expertise. Trinetics offers several lines of high-tech patented welding equipment, starting with standalone bench models to fully automatic assembly systems. They do ample research into prototyping product development prior to producing equipment.