'Thread Council' Launches Kickstarter to Shake Up T-Shirt Industry, Creating 'Artist-First' Brand for Best-selling Designers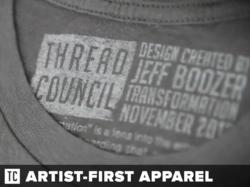 SAN FRANCISCO, CA (PRWEB) June 05, 2013
Jason is a really talented guy. He designs best selling apparel for some of the biggest bands and brands in the world, staying on top of design trends, printing methods, musical tastes, and cultural trends. As a result, his designs wind up on millions of dollars worth of t-shirts.
And he's not the only one. Turns out that a small group of highly talented artists drive much of the graphic apparel industry. Their work is featured on apparel for everyone from Jay-Z to Levi's, Metallica to the Rolling Stones to the Gap…and pretty much everyone in between.
But while their skills help drive sales for others, their names, and their own, original work often their best are largely unknown.
The San Francisco-based Thread Council project (http://www.threadcouncil.com) hopes to change all that, creating a new artist-friendly brand and funding it with a crowd-funding campaign on the website Kickstarter.
The Thread Council Project, at http://www.threadcouncil.com/kickstarter, will make and distribute these artists original creative designs separate from the bands and brands they usually work for on t-shirts, hoodies, even shoes and skateboard decks. The apparel artists share the revenue and the glory. And, the founders hope, it will create change in a $ 5 billion industry.
The Thread Council designers have enormous talent and expertise, which is why the bands and brands keep hiring them, said Ed Bernstein, a tech entrepreneur who is helping lead the Thread Council effort. Each of these designers know music, culture, and fashion, and regularly create best sellers.
But some of their best stuff, adds Eduardo Del Balso, one of the projects founders, never finds its way to market. We want to change that, and we hope the industry listens."
The projects goal is to create a brand based on these artists own, original work — unrelated to the bands and brands theyve worked for in the past — and give them individual recognition and a share of every sale.
MORE INFORMATION
For more information about the project and the Thread Council artists, our Kickstarter page at http://www.threadcouncil.com/kickstarter or contact us at press(at)threadcouncil(dot)com. Visit our press page at http://www.threadcouncil.com/press.