TestLink Signs ATM Cassette Tester Deal With Brinks Singapore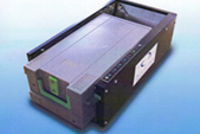 (PRWEB) February 5, 2010
Independent ATM supplier TestLink has signed a distribution deal with Brinks Singapore for its ATM cassette tester.
Secure cash management group Brinks will distribute TestLinks innovative NCR cassette testing system in Singapore, Malaysia and Indonesia.
TestLinks quick and easy handheld Automatic Cassette Testing System (ACTS) helps cash handling organisations across the world to ensure their ATM cassettes are configured and functioning correctly.
It can operate from both mains and 12-volt power supplies, enabling it to be used by both cash handling centres and mobile cash in transit teams.
Users simply slide an NCR ATM cassette into the machine and within seconds it will check the cassettes configuration and also other features, such as the mechanical shutter and cash low sensor.
Brinks Singapore has been using TestLink ATM cassette testers to underpin and further enhance its world-class secure cash management operations.
Officials at Brinks Singapore were so impressed with the ATM cassette test equipment they purchased from TestLink that they approached the company for distribution rights.
TestLink Chairman Nick Beer said he was equally impressed with the commitment and resources that Brinks was dedicating to distributing the ATM cassette testers.
Brinks Singapore is a very high profile name in cash management and replenishment and Singapore, Indonesia and Malaysia are very exciting markets for us, he said.
TestLink also sees large potential markets for the ATM cassette testers in countries such as China, India, the Middle East and Africa.
There are great opportunities here and we are looking for more distributors. China in particular has tremendous potential.
TestLinks Automatic Cassette Testing System helps banks, ATM operators and cash in transit companies to configure NCR ATM cassettes correctly so they avoid the serious financial and reputational damage caused by ATMs paying out the wrong amounts of cash.
Last April, TestLink announced that a major multi-national cash in transit organisation was the latest customer to boost ATM service reliability by adopting the testers.
The client which manages more than 30,000 ATMs across Europe and North America chose TestLinks hand-portable ATM cassette testers for their guaranteed accuracy, speed and ease of use.
ACTS open design allows testing of ATM cassettes with their lids off enabling users to hand-move cassette components during testing.
TestLink is best known for helping companies to cut their ATM purchase costs by up to 70 per cent with its ATM sales and ATM refurbishment.
As new TestLink ATMs are as or more reliable than new ATMs. The company has published an ATM buyers guide with hundreds of ATMs in stock for rapid deployment.
TestLink used its 20 years of expertise to develop the ACTS cassette testing system, providing added support with: