Techzilla Unveils Blackberry Q10 Predecessor, the Z10, In Their New Buyback Program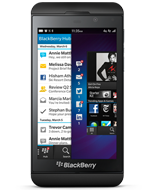 Margate, Fla (PRWEB) June 18, 2013
Techzilla, a one-stop shop for all things tech, introduced their Buyback program back in April to keep up with the competitive (and lucrative) buyback industry and create an updated consumer place to sell old cell phones.
Buyback services for used smart phones have been especially popular due to the constant flood over the last few years of advancing new smart devices to the market. Techzillas Buyback program was put into place to meet the increasing consumer demand for selling old cell phones.
One of the programs more popular updates is the addition of the Blackberry Z10, created by Research in Motion out of Canada. The Z10 precedes RIMs hottest new smart phone, the Q10, which hit the US market June 6, to their assortment of advanced smart devices. The Z10 is the first of RIMs cell phones to be entirely touch-screen based, keeping it in tune with the order of the day. The Z10 is said to physically resemble the iPhone 4 but in the color black, and is the first Blackberry to run the Blackberry 10 operating system (the Q10 is now the second BB to do so).
The Blackberry Z10 isnt the first example of RIM tapping into touch screen technology. A number of smart devices in their previous Storm and Torch series featured their SurePress screen technology, which required that users tap the touch screen to select an item the same way they would with a button. SurePress was always accompanied by the Blackberrys all-too-known Trackpad button that is used to move about the cursor with the swipe of a thumb. The Z10 and Q10, however, have removed the Trackpad to make way for more advanced touch screen features.
"With new additions like the Z10 to the selling program, we hope to diversify our Buyback market and become more competitive within the industry for people looking to sell old cell phones." said Social Marketing Strategist Alex P. Buyback was originally focused on offering reselling services for consumers with Apple products and only featured iPhone, iPad, and iPod Touch devices, including the popular iPhone 5, iPad Mini, and iPod Touch 5. Over the last month, however, Techzilla has been adding a slew of non-Apple smart phones to their platform as well in its hunt at becoming the best place to sell used cell phones.
To move on as more than just an iPhone buyer, and to lock the title of best place to sell old cell phones, Buyback has added other popular phone models from Motorola, HTC, LG, and Samsung, which can be viewed through their website. Techzilla has plans to open their first hands-on retail hotspot in Ft. Lauderdale sometime this summer. All the services consumers have access to online will soon be attainable in person, offering more answers to the new question, Where can I sell old cell phones?
About Techzilla
Techzilla is the one-stop shop for all things tech, supporting the evolving technology needs of consumers and small businesses. An experienced team of customer support agents is available around-the-clock to help troubleshoot and repair issues, as well as to offer gadgets and devices from todays leading technology brands. Techzilla also provides a dedicated platform to help educate and inform consumers on the latest tech trends and can guide its customers through tech purchase decision-making. For more information, please visit Techzilla.com,Facebook.com/TechzillaTechSupport or Twitter.com/TechzillaTech. Techzilla is a subsidiary of the ElephantGroup.com, which is also the parent company of QologyDirect.com, Saveology.com and EG Performance