Structure Partners, a New Hollywood-Based Start-Up Accelerator and Venture Capital Firm Focused on Media-Centric Emerging Technology, Announces a First Closing of its Initial Fund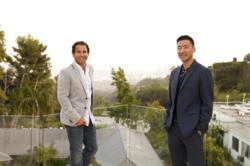 Hollywood, CA (PRWEB) June 06, 2013
Structure Partners is proud to announce a first closing to its new venture fund this week, Structure Fund. In addition to deploying capital, Structure Partners provides operational advisory work to early stage, qualified start-ups, assisting its clients in refining and developing their key products or services.
Due to its dual mandate, Structure Partners takes a hands-on approach to venture investing. Structure Partners identifies young companies with enormous potential and becomes an operational partner (in some cases a co-founder) for a period of three-to-six months. If during their tenure they believe that investing their capital will benefit both the company and their investors, they will invest a portion of the associated venture fund, called Structure Fund. The ideal candidate is a company that has raised an angel round, but has not developed far enough to be a strong candidate for a Series A Round. Thats where Structure can be of paramount value. Towards this end, Structure has already struck deals with four companies: Wallaby Financial, Venga, Grade A Sign, and Fightclub.com. With a just-closed fund in tow, they are already in conversations with several other promising companies.
Structure Partners is led by Adam Shaw, President, and Elijah Kim, Executive Partner, who bring more than 30 years of combined experience to the firm. Shaw is the former Chief Executive Officer of Digital Artists Entertainment (DA), a digital studio he co-founded with Creative Artists Agency (CAA). Prior to managing DA, he co-founded internet advertising company Spotrunner. Earlier in his career Adam held several senior executive positions with FOX during an eight-year tenure, including Senior Vice-President of Business Development for Fox Cable and acting Chief Operating Officer for FX Network. As an executive with FOX, Shaw played an integral role in helping the company acquire and launch new cable networks. Following FOX, Shaw spent 4 years with the National Football League (NFL) where he was also responsible for launching the NFLs cable network NFL Network.
Kim brings substantial experience in the digital media and technology industries, helping to deploy new technologies for large media companies. He was the youngest executive team member with Universal Music Groups Global Digital Business, which led to his involvement with the launch of VEVO, YouTubes popular dedicated music channel. His experience includes the strategic development of products, distribution, and advanced commerce technologies.
Part of the inspiration of Structure Partners was to provide a solution to the challenges I faced as a CEO running a start-up. Now, I want to nurture and oversee the development of other start-ups using a very hands-on and personal approach to ensure our clients will flourish, said Shaw.
Shaw and Kim are also leading the charge for several businesses being built around digital brands, including YouTube sensations Chriselle Lim and ISA (International Secret Agents), a consortium of digital video stars that includes Far East Movement, whose single Like a G6 reached number one on the Billboard Hot 100 and iTunes. Structure Partners has a diverse client portfolio with a focus on digital technology, music, entertainment, and sports. The firm has a proven track record for steering its start-ups to the most effective operational direction and funding opportunities to put clients on a path to profitability.
We are at the nexus of Tech and Media here in Los Angeles. Being a native in both worlds provides a powerful platform to help start-ups bridge this gap, and as operational advisors we have a vested interest beyond traditional advising or consulting, said Kim.
For more information about Structure Partners, visit http://www.StructurePartners.com.
For Media Inquiries and Interviews, please contact YM & Associates PR | Marketing | Branding at Media@YM-PR.com or call 949-244-9769.
Yvette Morales

YM & Associates

PR | Marketing | Branding

California | New York

949.244.9769 | 310.499.0906 Fax

YMoralesY(at)YM-PR(dot)com

http://www.YM-PR.com

Twitter @YMTheBevHillsPRs
More Tech Press Releases