Storagepipe Infographic Viral Video Rocks Crowds at Major Industry Events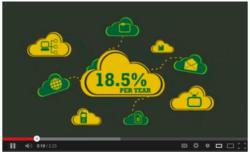 Toronto, Ontario (PRWEB) June 01, 2013
Storagepipe has recently introduced their latest viral video infographic at a number of major IT events including IBM Pulse 2013 in Las Vegas – receiving overwhelmingly positive reactions from attendees at these conferences.
And due to popular demand, this exclusive video has now been made publicly available.
IBM Pulse 2013 is one of the worlds most important business technology events, which reunites technology thought leaders and IT decisions makers to discuss and uncover the issues and trends which will shape the world of mid-range and enterprise IT in the years to come.
Storagepipe has been an IBM Business Partner, and a leader implementing IBM cloud-based data protection since 2001. Due to the remarkable success of Storagepipes Fastback DR offering over the past few years, IBM has organized a dedicated breakout session to discuss Storagepipes approach to Disaster Recovery as a Service (DRaaS)
As part of this presentation, Storagepipe has produced a new video infographic titled Next-Generation IT Management and Data Protection Challenges. The video covers many of the new emerging business challenges which are affecting the role of IT. These include things such as Big Data, BYOD, Machine-to-Machine, Compliance, Disaster Recovery, 24-7 Business and more.
The video can be viewed at the following URL: http://www.youtube.com/watch?v=COItsx-vL3w.
This latest video follows other Storagepipe infographics which have achieved viral success across blogs, industry media and social networking sites. Most notably, Storagepipes comedy rap video Ram in the Boot Sector was viewed over 20,000 times within just the first few weeks.
Storagepipe also produces educational videos. Grandfather, Father, Son (GFS) vs. Progressive (Incremental Forever) Backup Paradigms is considered by many within the tech space to be one of the best and most authoritative resources for understanding the difference between conventional and modern backup methodologies. (http://www.youtube.com/watch?v=7oNlwQ46XS4)
Founded in 2001, Storagepipe has been a pioneer and constant innovator in the areas of data protection and business continuity. Solutions offered by Storagepipe include online backup, archiving, high-availability, disaster recovery, compliance and more.
According to Storagepipe President Steven Rodin, Im really happy to see the enthusiastic response to our videos. At Storagepipe, we have a deep understanding of the many fascinating and complex issues for modern data protection and disaster recovery. And these videos help us educate our online audience in a way that is both informative and entertaining.
For more information about Storagepipe and their offerings, visit http://storagepipe.com. Also, visit Storagepipes YouTube channel at https://www.youtube.com/user/storagepipe.
Related Tech Press Releases