Spanish Language Alzheimers Dementia DVD with Teepa Snow to Aid Unrecognized Public Health Crisis in Spanish Communities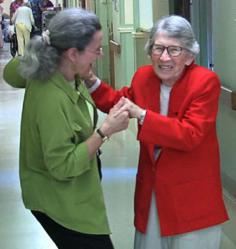 Sarasota, FL (PRWEB) April 27, 2013
In an effort to improve conditions for Spanish-speaking people suffering from dementia, Pines Education Institute of Southwest Florida has released a Spanish-language Alzheimers/dementia caregiving DVD, "El Arte de Cuidar," with nationally renowned dementia care expert Teepa Snow, MS, OTR/L, FAOTA.
The Alzheimers Association estimates that 1.3 million Spanish-speaking people in the U.S. will be affected with some form of dementia by 2050. JoAnn Westbrook, Director of Education, explains, Dementia is a public health crisis that spans all ethnic groups, but Spanish populations often care for their loved ones at home much longer. There are very few tools to help those caregivers, so providing access to Teepas hands-on skills to the Spanish communities is a necessary step to improving lives through quality care.
In El Arte de Cuidar, Teepa Snow teaches effective techniques for daily hands-on caregiving tasks such as bathing, transfers and eating, which can help greatly reduce stress for caregivers and patients alike.
Snow has over 30 years of experience as an occupational therapist and caregiver of two family members with dementing illnesses. The combination of her formal training and been-there-done-that skills give Snow the credibility and experience to help caregivers with tried-and-true solutions. Her teaching style integrates facts about how dementia affects the brain and how it works, or doesnt work in the case of dementia. She is able to go in and out of character as a typical person with Alzheimers to demonstrate common issues and problems, and to help care providers learn new ways of thinking and managing their own behaviors for better results. Her training gives the audience a first-hand understanding and experience with the disease, and important knowledge to increase understanding between patient and caregiver.
Nuevo Advertising Group translated the script of the original DVD titled The Art of Caregiving from English to Spanish, provided the Spanish voiceover, and culturalized the graphics.
The DVDs are available for purchase at http://www.amazon.com in the U.S. and neighboring countries, and in Europe through Amazon UK.