RKNet Studios Announced Game Download from Play Store of Intelligence Game 21 Ninja – for Brain Fitness and Development of Cognitive and Social Skills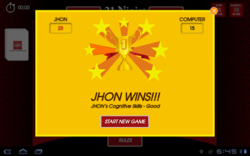 Middletown, NJ (PRWEB) June 25, 2013
Anant Goel, CEO at RKNet stated: "21 Ninja is an intelligence game for hours of fun, brain fitness, and development of cognitive skills and social skills. You can play against the computer as your playmate or challenge a friend in a game for two. Game is fun to play, and challenging the computer, or challenging your friends, is even more awesome when you win."
21 Ninja is a real life intelligence game that engages and develops 21 cognitive skills and can last 30 minutes of fun. Game shows the skills engaged and developed. It continuously keeps the score, monitors the progress, and at the end of the game it grades players' cognitive skills.
Everyone has cognitive abilities, but not everyone's cognitive abilities are the same.
There are some natural differences that separate the potential of an astronaut from a taxi driver. People can, at any age, improve their cognitive capacity, speed and accuracy. When they do, everything that relies on those cognitive skills gets easier, faster and more efficient.
21 Ninja is played with computer generated Ninja cards and a cognitions game board on screen.
Number of Players: One plays against the computer to engage, develop, and grade cognitive skills… Two play against each other to challenge and develop social skills.
Computer Deals: Random Ninja cards from the deck with 4 Ghost Ninja cards.
Game Start: First name player can start by picking and placing the Ninja card in the open stage for Ninja challenge. Ghost Ninja, when served, is used to disrupt challenger's Ninja force or skip the turn to gain strategic advantage.
Score: Running score is updated each time a player has three Ninja cards of the same suite in a winning formation horizontally, vertically, or diagonally.
Ninja Warrior Plays: There are 3 Ninja suites in the deck: Red Ninja, Black Ninja, and the Ghost Ninja.
Ghost Ninja Play: introduce a low-probability, high-impact event in the game. This concept is introduced to increase players ability to adapt to real surprises in life. Such sudden incidents might constitute as turning points in the game and replicate life events that change or greatly impact the final outcomes.
The objective of the game is to Hunt for Ninja formations for scoring opportunities, Block the opponent from scoring, strategically Plan ahead, and Disrupt opponents scoring formations when winning.
21 Ninja game is designed in the labs but proven in real life to engage, exercise, nurture, and develop a range of 21 cognitive skills from working memory to fluid intelligence.
In a game between an adult and a youth, the adult can take the fun opportunity to teach and mentor on the basis of shared interests and nurture the youth's memory skills, logical thinking and reasoning skills, decision making skills, risk taking and risk aversion skills, and social skills such as turn taking, graceful winning [or losing] and being patient with others.
Integration of multiple cognitive skills in one competitive game makes 21 Ninja fun to play; and more beneficial than brain-training computer games. Repeating one or two cognitive skills in brain-training games, again and again, is like revving your car engine in Neutral while sitting in your driveway, going nowhere.
Anant Goel said:"Train the brain and develop cognitive skills with 21 Ninja. Challenge the computer or friends to develop social skills. There are no limitations in age and brain power. This is an interactive game for kids and adults, people of all ages."
Be social. Play, chat and share achievements with friends and family!
Be the best! Play at the party and have the family join-in the fun or make it a challenging pair game with friends!
Publish comments and suggestions on Google Play Store and rate the game. Send player's high scores to receive Certificate of Excellence and T-shirt bonus prize!
Cognitions Bridge games can be downloaded on tablets from Google PLAY Store or the Apple APP Store.
Launch Press: http://www.youtube.com/watch?v=U1nLhrvZxbg
Download from Play Store: https://play.google.com/store/apps/details?id=com.rknetstudio.ninja
Download from App Store: https://itunes.apple.com/us/app/21-bridge/id623725250?ls=1&mt=8
About RKNet Studios:
Founded in 2007, parent company of RKNet Studios develops digital media content and mobile apps for the global audiences. Created by NJBIN award winning team; Cognitions Bridge mobile apps and games are for education, entertainment, brain fitness, and development of cognitive and social skills. The developers bring over 40 years of experience in technology, Applied Cognitive Psychology, communications, and applied operator training systems for fast moving Nuclear Power Control Rooms.