Real Estate Scorecard Celebrates UBSC Osher Lifelong Learning Institute's 1960's Throwback Fun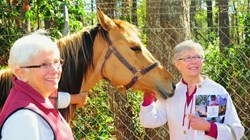 Bluffton, South Carolina (PRWEB) June 24, 2013
Hilton Head Lakes residents with a passion for learning have some of the best schools in the Low Country within a stones throw of their South Carolina coastal community. Osher Lifelong Learning Institute at The University of Beaufort South Carolina's program (OLLI) has 1,300 members and is one of the largest programs in the country. The UBSC Hilton Head Gateway Campus is less than five minutes from Hilton Head Lakes gated entrance. Whats new for the fall? Andrea Sisino, Director of the OLLI program and resident of Hilton Head Lakes, shared with us OLLIs new 1960s throwback topics which include taking a look into landing on the moon, the invention of computers, the Cuban missile crisis, and events surrounding John F. Kennedys assignation. There are 205 classes in all.
OLLI provides unique and intriguing learning opportunities specifically designed for adults who are age 50 or over who want to grow intellectually without having to enroll in a formal college program. Currently, there are over 50 pages of classes to choose from on topics ranging from politics and history to local food, music, and dance listed in their college class schedule. Some of the class offerings are : Yoga, Music (e.g., The Dance Band Era), Photography, Dance (e.g., Learning the Carolina Shag), Winespeak, Local Foods, Bluffton Walking Tours, Gardening, and a class on writing memoirs to document the events of your life. There is something for everyone. OLLI is a very cost-effective program with an annual membership cost of $ 40.00 and $ 85.00 for an unlimited number of classes for each of the fall and spring semesters. Fall registration begins August 5, 2013.
There are eight universities/colleges within a half hours drive of Hilton Head Lakes, West Bluffton's only boatable lake and golf community offering new affordable cottage homes under $ 200k. Among them are: The University of South Carolina Beaufort (5 minutes), Savannah College of Art and Design (20 minutes), Armstrong Atlantic State University (30 minutes), and Georgia Tech Savannah (20 minutes).
Armstrong Atlantic State University offers a Road Scholar program. Road Scholar is a revamped version of the greatly popular Elderhostel program. The Road Scholar program offers all-inclusive opportunities to explore your region and even the world. With the connections Elderhostel has made since 1975, they are able to provide information and experiences you wouldnt necessarily be able to access on your own. The local programs through Armstrong Atlantic, one of best schools in the Low Country, are held at some very historically rich locations throughout Georgia such as Historic Savannah, downtown Savannah, and Tybee Beach. At each venue, there are interesting and in-depth lectures, field trips, and incredible cultural experiences. Because the university has an all-inclusive venture, they take all of the work out of planning so that students are able to focus on their attention on the learning experience.
Lifelong Learning of Hilton Head Island, Inc is a locally run organization very close to the South Carolina coastal community of Hilton Head Lakes. They offer two six-week terms in each of the fall and winter and a four-week term in the spring. Most classes are held on weekdays, but special presentations and lectures take place on Saturdays. Lifelong Learning at Hilton Head Island, Inc offers classes such gardening, ethics, space exploration, architecture, literature, and art. Terms typically consist of twenty courses, and members may select as many or as few as they like. The organization is peer-led and peer-taught, with courses being held in many different Lowcountry real estate venues around Hilton Head. The annual membership is $ 30.00; the six-week sessions are $ 45.00 each, and the 4-week spring session is only $ 35.00 which makes this program very affordable.
Top ranked schools not only enhance personal growth, but they add intrinsic value to Lowcountry real estate developments. With these exemplary lifelong learning programs offered at the best schools in the Lowcountry, its convenient to indulge in the joy of learning living in Hilton Head Lakes.
About Real Estate Scorecard:
Real Estate Scorecard writes unbiased real estate reviews providing in-depth information about popular gated communities in Florida, Georgia, North Carolina, South Carolina and Tennessee, all in an effort to help people discover where to retire in the Southeast.
Website: http://realestatescorecard.com
Related Tech Press Releases