Pump Express Aids Ellis Island in Post-Sandy Recovery, Putting Historic Site On Point for Grand Re-Opening, Summer 2013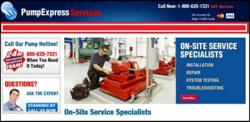 Wallington, NJ (PRWEB) May 31, 2013
Pump Express Services techs replaced an antiquated sewage ejector pump system that has served Ellis Island for the last 30 years with a pair of state-of-the-art 900-pound BJM shedder pumps. The new BJM shredder pump system will eliminate the chronic clogging issues that had been hampering the old sewage ejector system and bring the historic island into the 21st century, continuing to serve more than 100,000 people each year.
Ellis Island, the first stop for millions of immigrants who arrived in the United States via New York Harbor between 1892 and 1954, incurred extensive damage during Hurricane Sandy and has been closed to visitors since last November. Pump Express Sales Manager Fred Hettinger, says that the islands sewage ejector system was in need of an overhaul long before that.
We were called there four times over the last two years in response to high water alarms, clogging and ultimately a failed pump. They had a two pump system and when one pump failed the system ran on the other. Then two months ago that pump failed and they had nothing.
Left with only minimal sewage disposal, and faced with a grand reopening to the public targeted for Summer 2013, the islands maintenance engineers reached out to Pump Express Services.
We submitted a proposal to replace the old pump system with a pair of 15 hp BJM shredders. The job would include replacing two 20-foot sections of steel pipe, along with discharge and base elbows, installing a new, more efficient rail system and resurfacing the base of the sewage pit. Earlier this month we started the job.
The old rail system required four techs and an entire day to service a clog. A man had to physically descend into the 30-foot pit to detach and later reattach the pump. The new system we installed will take two techs about four hours to service. Thats half the manpower in half the time. This is a service we offer in connection with this type of system and can retrofit to any pump system to ease future maintenance.
Theres still no electricity on the island and all power is generated so its not an ideal work site but the new, improved system, which will service the entire island including at least three administrative/exhibition buildings, was completed within two weeks, putting the island on track for this summers reopening to the public.
Pump Express Services is the Service Division of Pump Express, one the the largest stocking distributors of commercial and industrial pumping equipment in the Northeast. For more information about Pump Express Services or to schedule service call us at 1-800-620-7331.