Personal Stock Monitor Simplifies Tracking Stock Options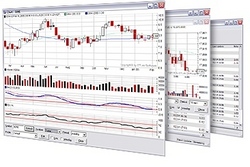 College Park, MD (PRWEB) February 24, 2010
To eliminate confusion caused by the varying stock options ticker formats, DTLink Software has created a "neutral" ticker symbol format, supported by their Personal Stock Monitor software, which greatly simplifies reading and writing options ticker symbols, and allows a single ticker format to work with multiple data providers. This was done in response to the recent industry transition to new option symbology, which was initiated by the Options Clearing Corporation, that allows each stock market data provider to create their own internal options ticker symbol format.
"Since many of our customers trade options, we wanted to create an option symbol format that was easier and more convenient for our customers to use than the cryptic internal ticker formats the data services were using.", said Anatoly Ivasyuk, CTO of DTLink Software. "So instead of something like MSQ100220P00030000, customers using Personal Stock Monitor can write MSQ Feb 20 2010 Put 30. The ticker symbol becomes an easy-to-read description of the option, instead of something you have to decipher."
The new options ticker symbol support is available immediately, in the current release of Personal Stock Monitor Gold software.
About Personal Stock Monitor GOLD
In contrast to strictly web based solutions, Personal Stock Monitor GOLD is a Windows(tm) desktop application used by investors world-wide to automatically monitor their stock market portfolios, freeing them to explore more trading ideas in less time. Light weight enough to run in the background, PSM can monitor a portfolio, track it's performance and alert the investor based on preset criteria. Built in trading allows the investor to act on events instantly. Personal Stock Monitor GOLD supports tracking stock market equities, options, mutual funds, ETFs and other securities all from the privacy of a dedicated desktop application. It features technical analysis charting, portfolio management calculations, reporting, an advanced alert system, scrolling ticker bar, integration with Microsoft Excel and a comprehensive scripting API for developing custom extensions.
Personal Stock Monitor GOLD works with all major version of the Windows(tm) desktop operating system including Win98 up through Windows 7, and requires a minimum of 512MB RAM, 50MB hard disk space, and an Internet connection.
Evaluation copies of Personal Stock Monitor GOLD are available for immediate download from:
http://www.personalstockmonitor.com/downloads.html
For additional information, contact:

DTLink Software

9608 48th Ave.

College Park, MD 20740

Phone: +1 (301) 441-3103 x1

Fax: +1 (301) 614-2974
On the web: http://www.personalstockmonitor.com/media_room.html
Personal Stock Monitor is a trademark of DTLink Software, L.L.C.

CollabInvest is a service mark of DTLink Software, L.L.C.
Excel, Money and Windows are registered trademarks of Microsoft Corporation (MSFT).
###