Perfect Market Selected as a Red Herring Top 100 North America Tech Startup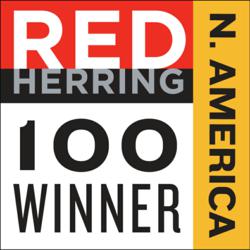 Monterey, CA (PRWEB) May 31, 2013
Red Herring announced its Top 100 award in recognition of the leading private companies from Americas, celebrating these startups innovations and technologies across their respective industries.
Red Herring Top 100 America enlists outstanding entrepreneurs and promising companies. It selects one hundred Award winners, among the 3000 tech startups financed each year in the US and Canada. Since 1996, Red Herring keeps tabs on the up and comers. Red Herring editors were among the first to recognize that companies such as Facebook, Twitter, Google, Yahoo, Skype, Salesforce.com, YouTube, Marin Software, Palo Alto Networks, and eBay would change the way we live and work.
In 2013, selecting the Top 100 achievers was by no means a small feat, said Alex Vieux, publisher and CEO of Red Herring. In fact, we had the toughest time in years because so many entrepreneurs have crossed significant milestones so early. But after much thought, rigorous contemplation and discussion, we narrowed our list down from hundreds of candidates from across North America to the Top 100 Winners. We believe Perfect Market embodies the vision, drive and innovation that define a successful entrepreneurial venture. Perfect Market should be proud of its accomplishment, as the competition was very strong.
Red Herrings editorial staff evaluated the companies on both quantitative and qualitative criteria, such as financial performance, technology innovation and intellectual property, management quality, business model, customer footprint, and market penetration. This assessment of potential is complemented by a review of the track record and standing of startups relative to their sector peers, allowing Red Herring to see past the buzz and make the list a valuable instrument of discovery and advocacy for the most promising new business models in North America.
"Over the past year, Perfect Market has experienced triple-digit growth, tripled our customer base and expanded our product offering through our Digital Publishing Suite," said Julie Schoenfeld, Chief Executive Officer of Perfect Market. "Being recognized as a Red Herring Top 100 Company is a real honor, and all credit goes to our hard-working team and wonderful customers."
About Perfect Market

Perfect Market, Inc. is the leading provider of digital publishing software solutions for driving traffic, engagement and revenue. Its products and services are utilized by over 200 premium publishers, including Los Angeles Times, Chicago Tribune, NBC News, Mediaite and Business Insider. Perfect Markets primary product offering is the Digital Publishing Suite, a comprehensive set of tools that address content recirculation, social discovery, search engine optimization, on-site promotions and ad optimization. Perfect Market also offers Audience Development Consulting Services for publishers looking to further enhance our software solutions. Perfect Market is headquartered in Pasadena, California, with offices in New York City, San Francisco and Bangalore, India.