Montana Techs Installation of a Shaw Sports Turf Field Underway and Expected to Pay Dividends in Football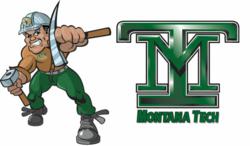 Butte, Montana (PRWEB) June 12, 2013
Former Montana Tech football coach Bob Green once compared his football team to a woodpecker in a petrified forest. He said they just keep busy and look for opportunities.
Thats what the now retired coach has always done and, as the man at the forefront of the soon-to-be-completed Digger Turf project, his persistence has paid off.
As part of the massive project, Montana Tech will now be playing on a state-of-the-art synthetic surface from Shaw Sports Turf.
Along with the field improvements, Montana Tech will be looking to improve the football program. The Orediggers, who were 8-3 under Chuck Morrell last season, are making their case as a force to be reckoned with in the Frontier Conference and the NAIA. The Orediggers are ranked as high as 11th in one early pre-season poll.
Weve been recruiting players for the style of offense well be able to run on the new field, said Morrell. We are a wide-open offensive team and the Shaw Sports Turf field is a fast and firm surface which complements our style of play.
Morrell also said the field will provide other benefits for the team and the school.
The field gives us a bright future when it comes to recruiting, he said. From a functionality standpoint, the versatility of the product lends itself to countless uses, no matter what the daily weather is like in Butte. The field will be a great source of pride to everyone associated with Montana Tech and shows the schools commitment to providing first-class facilities.
The new surface is Shaw Sports Turfs PowerBlade Bolt system. Bolt is a stronger, more resilient monofilament fiber, featuring a lightning bolt shape which creates a stronger vertical axis that causes fibers to stand upright for less breakdown and increased durability. Bolt is specifically built for performance and to reflect light for a lower luster and more natural looking field.
The Diggers football program is on the move up, said Kevin Senf, Territory Manager with Shaw Sports Turf. We are proud to involved with such a great school and great people.
Shaw Sports Turf has installed practice and stadium fields on more than 1,000 playing surfaces for all different types of sports and recreational activities, including many major collegiate programs such as Vanderbilt, Georgia Tech, LSU and the University of Arkansas.
Additionally, Shaw Sports Turf installed the practice and game fields for the world champion Baltimore Ravens. Torrey Smith, a wide receiver for the Ravens, is a spokesman for Shaw Sports Turf.
The field will come in 42 separate rolls, weighing a total of 55,000 lbs. The infill will be comprised of 137,600 lbs. of sand and 316,000 lbs. of rubber. Installation will require 7,000 feet of seaming tape, 58 one pound spools of thread, and 207 pails of adhesive.
The Orediggers will be looking for opportunities to make it to the top when they open their home campaign against University of Montana Western on September 21.
About Shaw Sports Turf

A wholly-owned subsidiary of Berkshire Hathaway Inc., Shaw Industries is a full flooring provider to the residential and commercial markets. Shaw supplies carpet, rugs, hardwood, laminate, resilient, and tile/ stone flooring products, as well as synthetic turf. Shaw Sports Turf is one of the leading synthetic turf companies in North America and has represented quality and innovation for more than two decades with over 1,000 successful installations, including an impressive list of high-profile field installations. For more information please visit http://www.shawsportsturf.com, call 866-703-4004 or find us on Facebook.