Married Fitness Couple: Justin and Jessica Rundle of RundleFit, Are the New Leaders in Family Fitness with Home Workouts the Entire Family Will Enjoy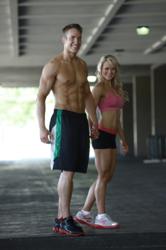 (PRWEB) June 27, 2013
Let's face it, most of us are busy, but are we too busy to live a healthy lifestyle? We try to avoid convenience food and make a whole-hearted effort to visit the gym, but due to the helter-skelter demands of life, we are running on empty. Because of this, our nation's health is no longer a priority. Even worse, our impressionable children bare witness to this routine and believe convenience food and inconsistent exercise is normal. This lifestyle is making it increasingly difficult to get the family together for quality time and family fitness.
Our nations health is at risk and convenience food, along with being time poor is to blame. Its so easy to pick up drive-thru food on the way home from work, the gym or soccer practice. However, this obliterates a workout, as one meal of this calorie dense food is equivalent to several nutrition dense meals. So, how does one implement a family fitness plan? Its actually easy and Team RundleFit of Workout Anywhere has the master plan!
RundleFits site: Workout Anywhere, is the perfect program for the whole family and totally time efficient. Their home workouts are actually anywhere workouts for home, work, the park, hotel room or anywhere. Since most of their workouts consist of bodyweight, core and plyometric exercises, the whole family can participate. As well, every weekly workout video has a beginner, intermediate and advanced version. Meaning, a true beginner to fitness can workout side-by-side the advanced level. Every workout has a unique circuit of total body, core and conditioning exercises, but with distinct variations for each level. Just turn on the Ipad, phone, computer or smart TV and one can Workout Anywhere.
RundleFit knows everyone is busy, especially families. With that in mind, time is not an issue for Workout Anywhere. Home workouts last 15 to 20 minutes and if their Four Minute Total Core Training videos are added, one can still finish under a half hour. Workout Anywhere provides the perfect smart training approach to fitness because they implement exercise science principles to make workouts lean muscle building/muscle-sparing and fat burning, without requiring a huge time commitment or trip to the gym. As well, the efficient and effective nature in tandem with new weekly workouts, crushes monotony and engages the whole family into the ultimate family fitness plan.
So, round up the whole family for only 15 to 20 minutes and make family fitness a priority. Access Workout Anywhere for new family friendly weekly home workouts, meal plans, recipes, challenges and coaching for only $ 9.95/month.
Find More Computer Press Releases